Marconilaan/ Groenewoudseweg
Eindhoven
Identified graves / Aantal geïdentificeerde graven:
3
Opening hours / Openingstijden:
Not accessible
Geografic location / Geografische locatie: 51.45111111,5.4575
Woensel
The Jewish cemetery in Eindhoven is located in the district Woensel. The place on the heath in Woensel which until then members of the Jewish nation were buried on Monday, 7 October 1771 on behalf of The Lord Sijne Highness Prince of Orange and Nassau Etc. Etc. Etc. by commission and found to wederroepens well. The cemetery has the status of national monument. There are 330 tombstones.
It was formerly forbidden Jews to settle in Eindhoven. They could not even spend the night. Therefore summoned Governor William V in 1772 to put an end to this practice. The Jews were only equal rights with other citizens in 1796. The original ban meant that Jews settled in the surrounding villages and was known Jewish cemeteries and synagogues in Helmond and Tongelre.
In Woensel was legalized the Jewish cemetery in 1771. It is located immediately north of the existing Station Eindhoven Beukenlaan, the Groenewoudseweg. On this walled cemetery is located a building from 1910. This is a meta lord house. The wall is from 1910. The oldest tombs date from the first half of the 19th century. Between 1854 and 1945, the graves were marked with number poles provided with Hebrew characters. Most graves have stone slabs, and the oldest are only a Hebrew inscription, while there only Jewish era was handled. Later tombs have inscriptions in Hebrew and Dutch, with dates according to the nowadays usual Gregorian calendar.
Some places are for the kohanim or priestly class.
The cemetery is clearly visible from Station Eindhoven Beukenlaan, but is not accessible itself.
Grote Beek
On the grounds of the Hospital Psychatrisch Grote Beek at Boschdijk is a cemetery located, used for patients and hospital staff. People were buried strictly segregated by religion and thus there is a separate section with two Jewish graves. There were buried more Jews (about 25), but there is no tombstone (more) for them.
The cemetery has been forgotten for a long time. In earlier times, people with a psychiatric disorder often rejected by their families. It was ashamed of his or her "crazy family" and did not prefer loud noise to their existence, even in their death. Many people have even been buried anonymously in a grave that was marked with a number.
Recently inventoried the cemetery. All the buried people, totaling more than 1,800, got their name back on a monument was unveiled in late 2008.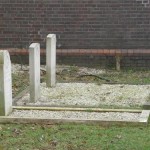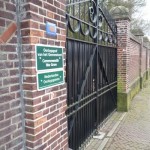 Google Maps