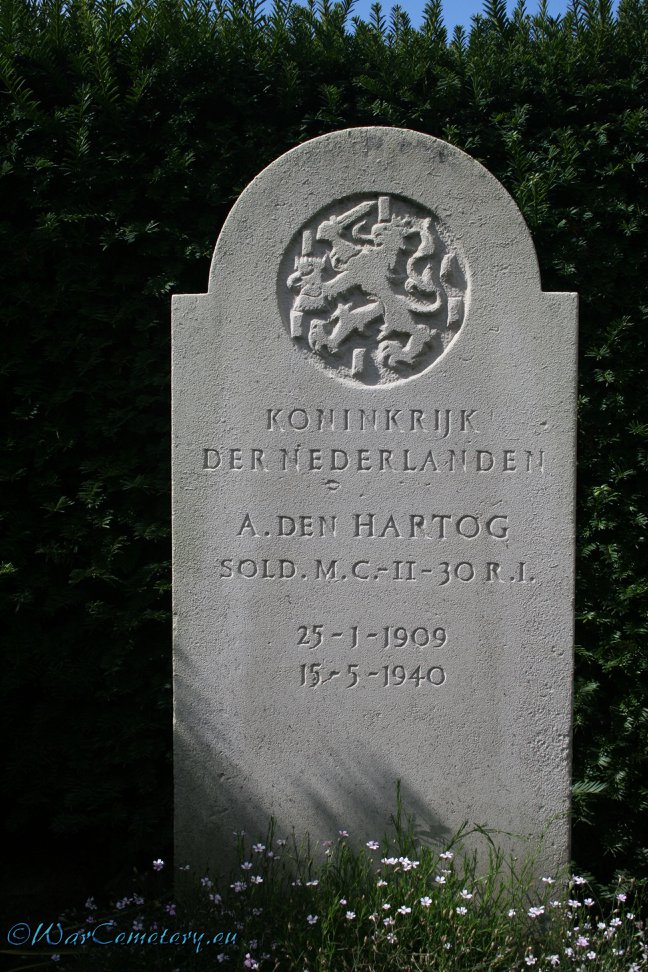 Graveyard / Begraafplaats:
Eindhoven (Woensel) General Cemetery
Location / Locatie:
Graf 1. Plot FF
Militairy Service / Krijgsdienst:
Nederlandse Landmacht
Rang:
Soldaat, M.C.II-30 R.I.
Regiment:
2e Mitrailleurcompagnie 30e Regiment Infanterie
Birthdate / Geboortedatum:
25/01/1909
Birthplace / Geboorteplaats:
Leerdam
Date of death / Overlijdensdatum:
15/05/1940
Place of death / Overlijdensplaats:
Eindhoven
Conscript soldier den Hartog was a severe abdominal wound obtained during fighting in the southern Willemsvaart Someren nursed in Asten in Huize Bartholomew and was then transferred to the military section of the St. Jozeph Hospital in Eindhoven, where he died from his wounds. He was buried in the cemetery Old Tower in Eindhoven on May 18, 1940.
Additional information?
Graves Foundation Brabant is continuously looking for possible new additional information on the grave of the person.
If you are in possession of pictures, facts or stories about this particular grave or person and you want to share this with us, do not hesitate to click on the link below.
Click to share additional information.
Aanvullende informatie?
De Gravenstichting Brabant is continue op zoek naar mogelijk nieuwe aanvullende informatie over het graf of de persoon.
Bent u in het bezit van foto's, weetjes of verhalen over dit specifieke graf of de persoon en bent u bereid om dit met ons te delen, aarzel dan niet en klik op onderstaande link.
Klik hier om aanvullende informatie te delen.