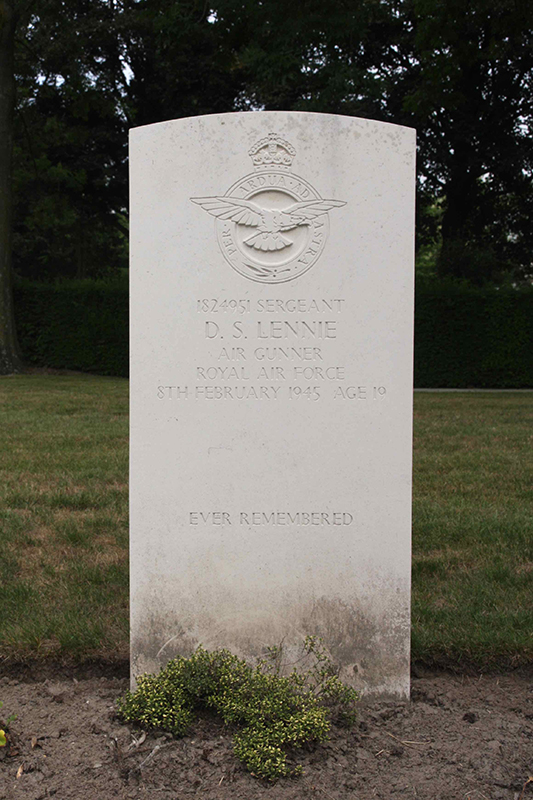 Graveyard / Begraafplaats:
Eindhoven (Woensel) General Cemetery
Location / Locatie:
RR grave 61
Militairy Service / Krijgsdienst:
Royal Air Force Volunteer Reserve
Rang:
Sergeant
Regiment:
97 Sqdn.
Number / Nummer:
1824951
Age / Leeftijd:
19
Birthplace / Geboorteplaats:
Aberdeen, UK
Date of death / Overlijdensdatum:
08/02/1945
Son of William and Ella J. M. Lennie from Aberdeen.
David Strang Lennie born Aberdeen 1926. Rear Gunner. Parents William Lennie and Ella Lennie (Coutts). Married 1907. Lived at 85 Hilton Road, Aberdeen, Scotland. Sisters Rita and Helen.
Father William – Willie Lennie was a Scottish footballer.
Images:
2 images of Willie Lennie as a football reporter in the Aberdeen newspaper.
1904 newspaper report about him joining Fulham FC.
Another reporting his death August 1954.
David Strang Lennie's sister Helen in April 1939 marriage to Donald McKellar.
Footballer Dad – transfer for £30 in 1913
David's other sister Rita married D.R. Paterson and they had a daughter 9 December 1939.
Image: William Lennie – David's father as a footballer.
William was a great Aberdeen winger and the first Aberdeen player to play for Scotland when he was capped against Wales at Dens Park in 1908. Lennie scored the winner in 2-1 win. He was one of the first players to receive a benefit match from Aberdeen.
After a brief spell with Falkirk, Willie retired from playing in 1913 because of injury problems. During the 1930's Willie had a spell as a football columnist for The Sunday Post. He had set up a newsagent's business at 85 Hilton Road, retiring through ill-health three years before he died aged 72 in 1954.
Signed:
08/06/1905
Career History:
Mossvale/Maryhill FC/Queens Park 24th December 1901/Rangers 15th May 1902/Dundee 2nd July 1903/Royal Albert 20th September 1904/Fulham 23rd September 1904/Aberdeen 9th June 1905/Falkirk 12th November 1913 £30/St Johnstone 3rd October 1914, Released – 30th April 1915/J.M. Hendersons FC
David's sister Rita was a member of the Banchory Dramatic Players.
12 December 1938 there was an article in the Aberdeen news:
Aberdeen Woman's Fall From Window:
Mrs Ella Lennie wife of Mr W Lennie the former Aberdeen footballer was seriously injured in an accident at Aberdeen last night. She fell 20 foot from a back window on the first floor of her home at 85 Hilton Road.
Mrs Lennie was taken to the Royal Infirmary with severe head injuries. She died on the 13th of December. Her son David was only 12 years old.
Advertisement in Aberdeen newspaper Aug 1952:
Our older readers who remember the famous Queen's Park winger, Willie Lennie will be interested to know that his nephew has taken over the Stationery business at the Academy Gate.
Source: Dorothy Ramser
Related / Gerelateerde
Charles William Mcgregor - Lieutenant
Jonathan Shield - Sergeant
Arthur Joseph Norton - Flying Officer
Gerard Stansfield Johnson - Flight Lieutenant
Raey Hilton Cheatle - Flight Sergeant
Percival George Cannon - Flight Sergeant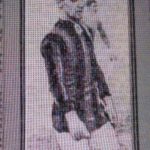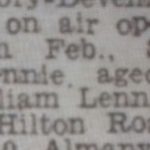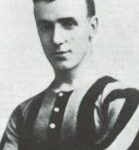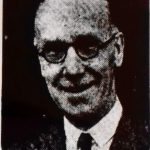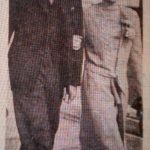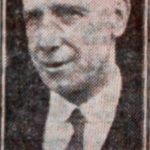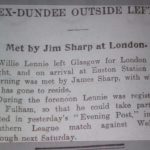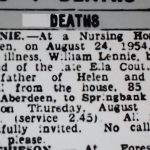 Additional information?
Graves Foundation Brabant is continuously looking for possible new additional information on the grave of the person.
If you are in possession of pictures, facts or stories about this particular grave or person and you want to share this with us, do not hesitate to click on the link below.
Click to share additional information.
Aanvullende informatie?
De Gravenstichting Brabant is continue op zoek naar mogelijk nieuwe aanvullende informatie over het graf of de persoon.
Bent u in het bezit van foto's, weetjes of verhalen over dit specifieke graf of de persoon en bent u bereid om dit met ons te delen, aarzel dan niet en klik op onderstaande link.
Klik hier om aanvullende informatie te delen.