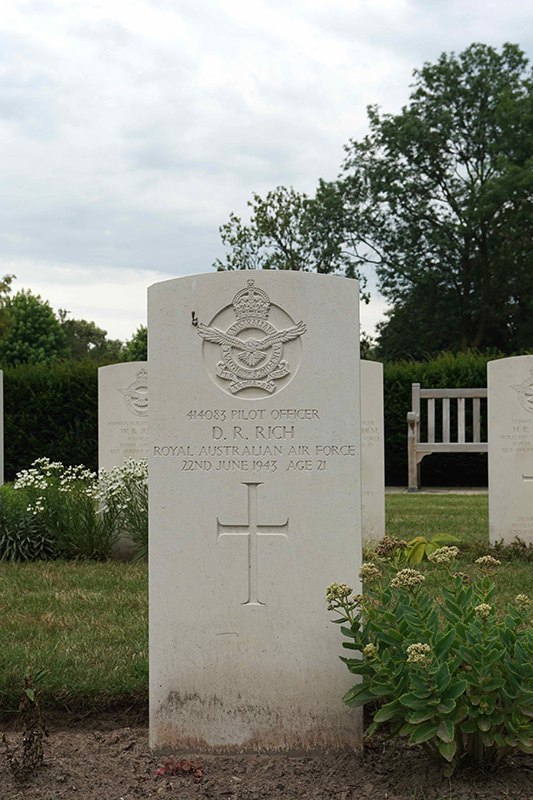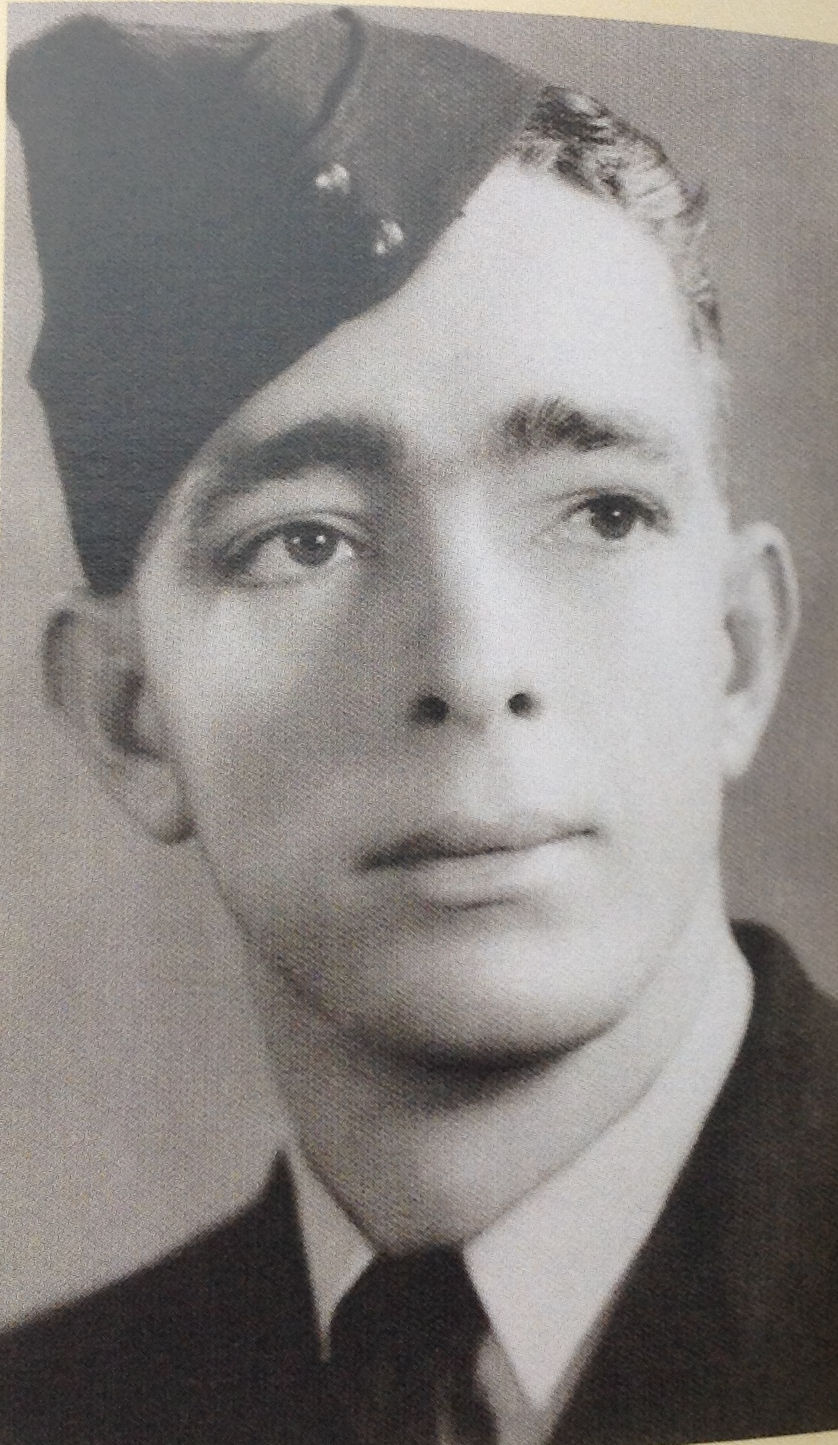 Graveyard / Begraafplaats:
Eindhoven (Woensel) General Cemetery
Location / Locatie:
EE grave 73
Militairy Service / Krijgsdienst:
Royal Australian Air Force
Rang:
Pilot Officer
Regiment:
218 Sqdn.
Number / Nummer:
414083
Age / Leeftijd:
21
Birthplace / Geboorteplaats:
Muttaburra, Queensland, Australia
Date of death / Overlijdensdatum:
22/06/1943
Place of death / Overlijdensplaats:
Maarheeze
Son of Cecil Frederick and Mary Rich; Husband of Alice Rich from St. Kilda; Victoria; Australia.
On the night of 21 on June 22, 1943 Bomber Command conducted a major attack on Krefeld. Altogether 705 bombers showed that 2,306 tons of bombs falling. More than a thousand civilians were slain and 4,550 were injured. The RAF paid a hefty toll: 44 planes did not return from this mission. Of these, 31 came down in the Netherlands, fifteen in England: in Alphen Asten, Bergeyk, Berlicum Boxtel (2), Deurne, Dinther, Oeffelt, Hoeven, Rucphen, Sint Anthonis, Uden and Woensdrecht.
And at 01:32 crashed also in Sterksel a Short Stirling III of the 218 Squadron. This aircraft was flown by Australian P / O D.R. Rich and shot down by a Messerschmitt Me 110, 6 / NJG 1. But this fighter was also hit himself so Hptm E-W. von Boning and wireless operator Ofw F. Johrden had to make an emergency landing at the Achel Hermitage. Their plane was lost, but they themselves brought it out alive.
That was not quite the crew of the Stirling. Three crew members survived the explosion of the bombs not own: pilot P / O Donald Robert Rich (21), bombardier Sgt Brian Kermode and wireless operator Sgt Stanley Herbert Burrows (28). The latter was only days later found dead, even to his unopened parachute.
The four other crew members, Sgt F. Fawcett; Sgt A.J. Small; Sgt. J.J. McDonald (a Canadian who later, on May 19, 1945, deceased in the POW camp) and Sgt H. Hill prisoners were taken. In 2000 at the initiative of Ad Hermens from Geldrop and Marietje van den Boomen from Someren-Heide a monument erected to the Panweg as "a tribute to all those in the area during World War II from 1940 to 1945 took the lives'
The book "The Fallen" is a commemorative publication honouring Brisbane Boys' College's Old Collegians who lost their lives in World War I, World War II and Afghanistan.
The pages of this book tell the stories of 98 heroic men, who paid the ultimate sacrifice but will forever remain our brothers.
With special thanks to P. Clermonts for the photo's and the additional information of Donald Robert Rich.
Article Australian newspapers with a list of Wives and Fiances from UK. Mrs A Rich is included.
Image from the Ship 'Orbita' where she is listed. They sailed from Liverpool on the 18th October 1946. She is a Radiographer of 25 years old, living 5 Cromford Road, Wicksworth, Derbyshire, UK. Her destination port was Sydney.
Mrs. Mary Rich sent a letter to the War Graves Commission on 16 Sept 1947 about the serviceman buried in Plot 73. Mrs Rich was convinced this boy was her son. She was eventually vindicated in this belief in 1949. A Mother's instinct was correct. She had to wait 6 long years, because the Canadian investigators moved the body to Groesbeek without opening the coffin and mistakingly identified him as an 'unknown' Canadian. Had they opened the coffin of the body found in Sterksel 22 June 1943 with the coffin clearly marked UNBEK -ENG – FLIEGER, (as detailed in image which was dated 5 Feb 1948) they would have his service number 414083 clearly marked on the inside of his Field Service Cap, his Pilot's Wings on his battledress and Pilot Officer braid and a cigarette case with his initials engraved on it.
Donald 'Doc' Robert Rich born in Muttaburra, Queensland to parents Cecil Frederich Rich b 1894 a Station Manager and Mary Monk b 1894 who died in 1974 at Albany Creek.
He crashed in a Stirling BK722.
His mother Mary wrote 28/7/43:-
I had hoped there might be some further news of my son,since he was reported missing on the 21 June. I quite realise that the Department will advise me as soon as they hear anything, but the anxiety and uncertainty are a great strain.
Letter from Mary 28/8/43:-
Would it be possible for you to tell me whether his aircraft crashed, was landed or whether the crew parachuted?
Letter from Mary 3/7/1944:-
From the parents of one of the crew i heard that their son and another member of the crew are buried in the War Cemetery at Eindhoven,Holland, nearby, is the grave of an unknown flier, picked up at the same place on the same date as one of the crew, there are NO other graves in the cemetery picked up at that place 'Sterksel' or on that date.
Investigation Report 5 Feb 1948:-
Cemetery records show that grave 73 plot EE contains the body of an airman killed at Sterksel on 22 June 1943. Sterksel is 5 miles north of the scene of the crash, and the date is the same. As we have no other casualty to connect with this grave, it could conceivably be that of P/O Rich. Unfortunately this grave is now empty; the body has been removed. It is believed possible that the Canadian GRU removed the body to GroesbeekCemetery; they took a number of bodies from Woensel and this 'unknown' being buried next to a Canadian may have been removed in error.
Investigation Report 18/10/1948:-
P/O Rich was buried in plot 73.
I then checked graves 72 and 73, in order to clear up the confusion concerning F/O Milne's burial position. I discovered that both these graves contained coffins, that in grave 73, not having previously been opened. The statement made by the Army Officer who originally exhumed Grave 72(to the effect that coffin 72 was in grave 73) is complete bilge. The coffin in grave 73 was clearly marked UNBEK- ENG-FLIEGER 73. Examination of the remains in this grave leave no doubt that the occupant is D.R. Rich (the initialled cigarette case enclosed) Arrangements will be made to have a cross erected.
Letter from Investigations 26/11/1948:-
The remains of P/O Rich have now been identified. Apart from the cigarette case, identity was established by RAAF battledress, pilots wings, p/o braid and a field service cap with his service number on the inside band. The cigarette case is very battered but we have forwarded it to you today as you may be able to have it partially repaired before passing it on to next of kin. A handwritten note at the bottom was added later " case received found unfit to return to next of kin".
Letter from Mary january 1949:-
I received your letter containing news of my son. I do thank you most sincerely for it. I deeply appreciate your thought in saying that he was not burnt. Perhaps you can realise just how much that means to me. Yours Faithfully Mary Rich
Almost 6 years of not knowing was at an end.
Some additional photos of the ANZAC-Day Ceremony in 2015.
Entry in Australian newspaper about him being missing 1943.
Images copyright National Archives Australia.
Source Dorothy Ramser
Related / Gerelateerde
Brian Kermode - Sergeant
Stanley Herbert Burrows - Sergeant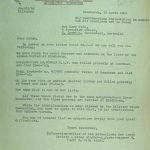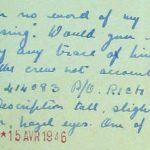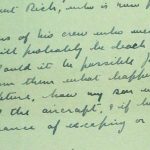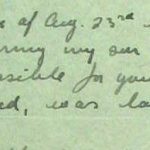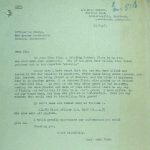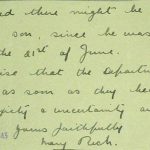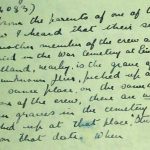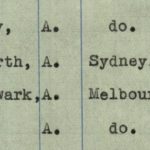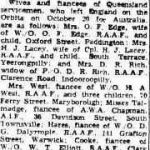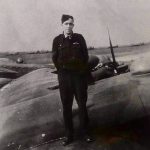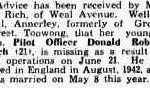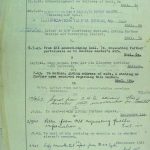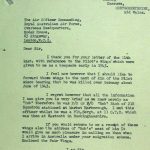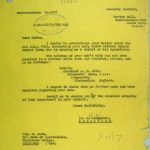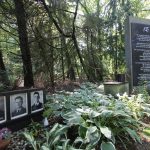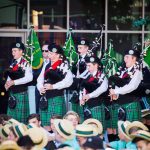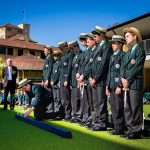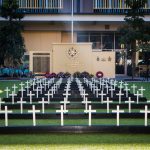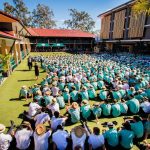 Additional information?
Graves Foundation Brabant is continuously looking for possible new additional information on the grave of the person.
If you are in possession of pictures, facts or stories about this particular grave or person and you want to share this with us, do not hesitate to click on the link below.
Click to share additional information.
Aanvullende informatie?
De Gravenstichting Brabant is continue op zoek naar mogelijk nieuwe aanvullende informatie over het graf of de persoon.
Bent u in het bezit van foto's, weetjes of verhalen over dit specifieke graf of de persoon en bent u bereid om dit met ons te delen, aarzel dan niet en klik op onderstaande link.
Klik hier om aanvullende informatie te delen.