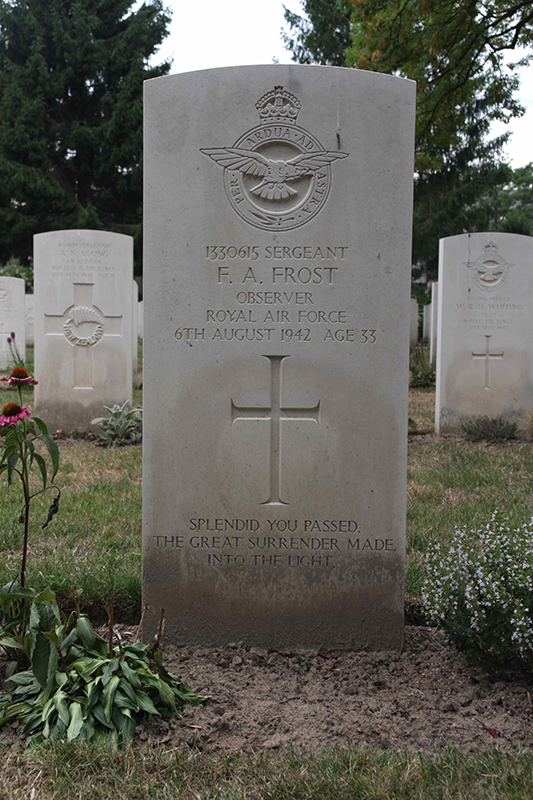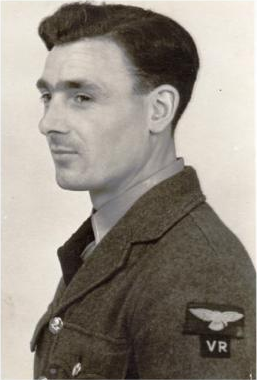 Graveyard / Begraafplaats:
Eindhoven (Woensel) General Cemetery
Location / Locatie:
JJ coll. grave 93-95
Militairy Service / Krijgsdienst:
Royal Air Force Volunteer Reserve
Rang:
Sergeant
Regiment:
102 Sqdn.
Number / Nummer:
1330615
Age / Leeftijd:
33
Birthplace / Geboorteplaats:
Walthamstow London
Date of death / Overlijdensdatum:
06/08/1942
Place of death / Overlijdensplaats:
Heikant
Son of Fredrick James Frost and Cathorine Alice May Frost; Husband of Lily Frost from Bilbrook; Staffordshire.
Frank's Son Peter wrote: "My Dad's full name was Frank Arthur Frost and his service number was 1330615. He was born and married in Walthamstow London. He had wanted to fly ever since he was a child and applied for a commission in the RAF sometime in the 1930s.
However he was turned down on medical grounds and he became the manager of a shoe shop. In December 1940 we all moved to a small village called Bilbrook near Wolverhampton and he enlisted in the RAFVR on the 13 December. While he was waiting for his call up he worked at RAF Cosford which wasn't far away. My brother Donald remembers him being excited because he was working near the aeroplanes. His first posting was to 9RW at Stratford for what I assume was his basic training. After this he was posted to 11 ITW Scarborough on 3rd May 1941.
Whilst The Prince of Wales Hotel was the administrative HQ of 11 [T11, it used a number of other South Cliff hotels as billets including the Cro.vn, The Weston and the Waldorf. IV!y Dad ,vas posted to 11 ITW 'D' Flight, No 4 Squadron, from 3rd May to 28th August 1941, when he was posted to RAF Jur by on the Isle of Man.
Wen he arrived in Scarborough I believe he was billeted in either the Weston Hotel or the Waldort Hotel.
From Scarborough Frank went to RAF Jurby for further aircrew training before being posted to 5 AOS (Air Observers School) at RAF Jurby on the lsle of Man for further training as an Observer, Navigator, Bomb Aimer, or Gunner.
On 3rd March 1942 he was posted to 10 OTU at Stanton Harcourt near Oxford which was an offshoot of RAF Abingdon. It was from here that he flew on his first Operation as Observer/Navigator in Whitley No 4997. This was part of the first 1000 Bomber raid to Cologne.
On 18th June he was posted to 102 Squadron at RAF Topclille in Yorkshire where he started to fly in Halifaxes. The Squadron was due to move to RAF Pocklington on 6th August and it was on the day before, 5th August, that he made his last flight in a Halifax Mk Il No R9495. He was the Navigator/Observer in one of two Aircraft on a raid over Bochum, which is about 15 miles East of Essen. He was killed during that raid on 6 August 1942. The other members of the crew were:
Pilot-Flight Sgt Reginald Seymour Tadman DFM, age 23
light-Engineer -Sgt James Colville age 24
Wireless Operator/ Air-Gunner – Sgt Noel Clive Hain, RAAF age 21
Air-Gunner – Sgt William_Gordon Mckinnnon, RCAF age unknown
Air-Gunner – Sgt Arthur Stanley Charles Ellis, age 22
Air-Gunner – Sgt Sta11ley Raymond Lupton, RCAF, aged 21.
The plane was shot down at place called Heikant, two miles North of St Oedenrode (North Brabant), North of Eindhoven in Holland. There were no survivors. Frank was 33 and the oldest member of the crew. His body along with those of Flight Sgt Tadman and Sgt Ellis, are buried in the Eindhoven General Cemetery in a collective grave because their bodies were so badly burnt that it was impossible to identify them.
Sgt's Lupton and McKinnon they rest at the Canadian War Cemetery at Groesbeek, the Netherlands
Related / Gerelateerde
Reginald Seymour Tadman - Flight Sergeant
James Colville - Sergeant
Arthur Stanley Charles Ellis - Sergeant
Noel Clive Hain - Sergeant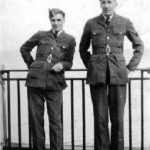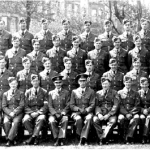 Additional information?
Graves Foundation Brabant is continuously looking for possible new additional information on the grave of the person.
If you are in possession of pictures, facts or stories about this particular grave or person and you want to share this with us, do not hesitate to click on the link below.
Click to share additional information.
Aanvullende informatie?
De Gravenstichting Brabant is continue op zoek naar mogelijk nieuwe aanvullende informatie over het graf of de persoon.
Bent u in het bezit van foto's, weetjes of verhalen over dit specifieke graf of de persoon en bent u bereid om dit met ons te delen, aarzel dan niet en klik op onderstaande link.
Klik hier om aanvullende informatie te delen.