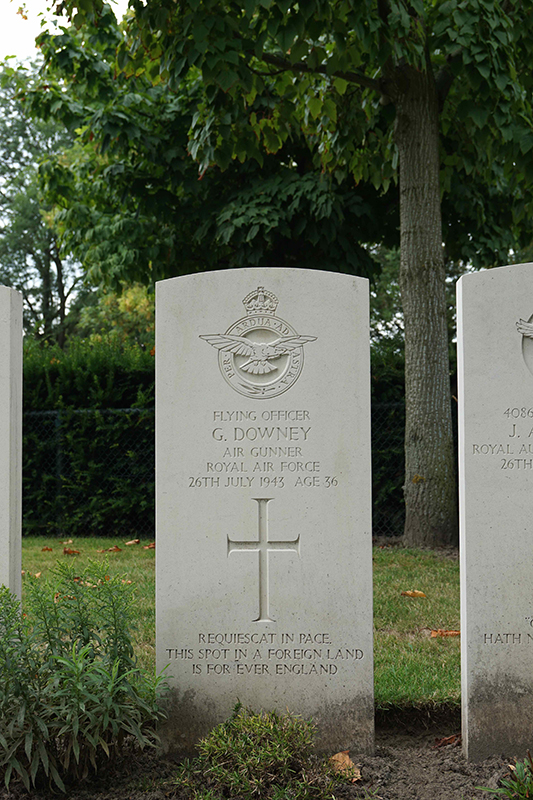 Graveyard / Begraafplaats:
Eindhoven (Woensel) General Cemetery
Location / Locatie:
EE grave 92
Militairy Service / Krijgsdienst:
Royal Air Force Volunteer Reserve
Rang:
Flying Officer
Regiment:
10 Sqdn.
Number / Nummer:
125931
Age / Leeftijd:
36
Date of death / Overlijdensdatum:
26/07/1943
Place of death / Overlijdensplaats:
Oisterwijk
Son of John and Barbara Downey from Liverpool.
On July 26, 1943 1:20 plunged to an English Halifax II bomber down on the Kampina Heath on Oisterwijks territory.
The Halifax II bomber on board was a seven-headed English Canadian crew on the way back from a bombing mission in Essen in the Ruhr area of ​​Germany when it fell to a German night fighter.
The device was 6 km north-east of Tilburg attacked at about 5700 meters from the German fighter when the unit # 26 was flying in a formation.
With some huge pop followed by a roaring sound and camera shake plunged the unmanageable and with burning right wing down.
The unit arrived on the moorland of the Kampina rightly, about 200 meters south of the Belvertsven and partly burned out.
Two crew members, radioman (radioman) Smith and pilot / captain Hartnell-Beavis knew the unit to leave on time by parachute, the rest of the crew died during the attack of the German night fighter or the crash and the fire that follows.
The front part of the fuselage at the wings completely burned to break, the breech remains reasonably intact.
The formation of 10 bombers squadron evening departed on July 25 around 22:15 from RAF Melbourne for a raid on Essen.
During the flight back to England the Halifax II pilot Hartnell-Beavis was the victim of German Major / Group Commander Werner Streib, a German night fighter pilot NJG / 1 (Night Jagt Geschwader / 1) operated was from the Venlo airport.
Werner Streib was an experienced pilot and a true "ace".
He was at the end of the war, no fewer than 66 victims to his name, of which 65 were shot down in the night.
Often as "Father of the Night Jagt" dubbed Streib developed the operational tactics of night hunting from the beginning to the middle of the Second World War.
Together with Wolfgang Falck he made the Luftwaffe night fighter department into an effective group that fought against the nightly bombing offensive by the Royal Air Force.
In 1943, during the months of June and July Streib Werner flew the prototype Heinkel He.219 which he claimed to have shot down on June 5 Lancaster bombers in just 30 minutes!
One night during his return at the airport in Venlo miscalculated Streib by a poorly lit runway which he came down hard and the unit broke into pieces and the cockpit slid by about fifty meters.
Streib and his radar technician was slightly injured and the plane was completely written off.
During the ten days that followed he flew with a He.219 prototype that he shot some twenty enemy RAF aircraft, including six Havilland Mosquitos.
He had the tactics adopted at night to infiltrate between the current bombers which he no fewer than four Halifaxes and one Lancaster was able to shoot with his new fighter.
Werner Streib would end his career at the end of the war as Superintendent of the Night Hunters with rank Oberst.
The crew of the Halifax-II consisted of:
S / L, F J. Hartnell-Beavis (DFC, Distinguished Flying Cross) – Pilot / captain
P / O, C E. Hightower, RCAF (DFC) – Engineer / 2nd Pilot, 32 years
Sgt, ​​R A. Smith – Marconist
P / O, W. Jones Navigator, 34 years
P / B, D B. Ackerley- Bombardier, 22 years
Sgt, ​​W. Collins Archer, 21 years
F / O G. Downey – Tail gunner, 36 years
The device was subjected after the crash by a technical team from the Germans to a study in which certain elements from security considerations were taken for further investigation.
The remains of the device were then further demolished and removed in sections.
Such devices often went to pieces back to "the Heimat" or somewhere in the Netherlands to be checked for usable parts or to be further processed into raw material.
The parts were then often transported in pieces by train to Germany or taken to Vught or airport Ypenburg where there was an airplane junkyard in Vught concentration camp.
The five crew members were killed and examined the wreck salvaged by the Germans from.
Later, they buried in the presence of a priest with military honors.
Again later C E. Hightower of the Royal Canadian Air Force reburied in Groesbeek on the Canadian military cemetery there.
After Sgt Raymond A. Smith (wireless operator) could leave the plane by parachute, he ended up in a forest at about eight kilometers from Tilburg.
He was aided spent two English-speaking and Dutch to Rotterdam.
Between July 26 and October 9 he stayed in hiding in various places in the country.
On October 9, he went via Amsterdam to Paris where he stayed until 14 October.
On October 14 he left Paris and traveled to Bordeaux and Bayonne.
Along with some companions came to Dax in south France and stayed there for a day in a hotel.
When she was later told by train would travel to the Spanish Irun that the train was full of German troops.
In one way or another they managed to hide shelf under the train on their stomachs.
It was a tough journey in which they only could keep hardly solid, especially while riding the train.
After they Hendaye on the Spanish border had reached them got off and walked further down the track after they arrived to find that the train that would take them to Lisbon had already left so they held a day hiding under a train.
Eventually they managed to take a train to San Sebastian in Spain where she arrived on 16 October.
Since they had they managed to get it anyway no train tickets and using disguised in overalls with berets at the goods entrance they were able to leave the train station.
Outside come they urged a man to stop and ask the way to the British Consulate.
He showed them the way and arrived there they waited until one of the staff showed up.
The next day they were brought to Madrid and thence to Gibraltar where she arrived on 25 October.
Two days later, Raymond Smith was safe and unharmed back in England after three months.
Pilot Hartnell-Beavis knew the device also narrowly by parachute to leave and landed safely on the Kampina heath.
Hartnell-Beavis, an experienced pilot at the end of his 2nd "tour" (he had made 25 flights while only 20 were required for a 2nd tour) decided, although he does not have to fly (He was awaiting a employment in the transportation command) to do the mission anyway.
By rivalry with another crew, which of 'Timber' who had no service at the time, he was hoping so as to come in front of a mission.
Hartnell-Beavis was already involved in a plane crash when he flew in 82 Squadron at Blentheims.
During a flight in bad weather 9 June 1940 was his Blentheim R3759 struck by lightning and he had to make an emergency landing at airport Hendon.
On his second attempt in the very bad weather to land he came up next to the runway and he could not prevent himself came to rest in a bunker geschuts.
He got here just as his navigator Sgt Phipps badly injured.
Hartnell-Beavis saw on July 26 after his parachute landing his burning plane spaced and decided to fast from the feet.
Through wanderings he managed to get to the Belgian border via Eindhoven.
Here he thought at one time to do the underground have diligently he was looking for help in the hope of an escape back to England.
Unfortunately turned his helpers have other plans and delivered him from the Germans.
He was captured and came through Amsterdam into Germany where he ended up in Allied prisoner of war camp for airmen Stalag Luft III become trapped.
Hartnell-Beavis survived the war and returned to England where he died in July 2007.
Related / Gerelateerde
Wilton Jones - Pilot Officer
Douglas Baldwin Ackerley - Pilot Officer
William Collins - Sergeant
Additional information?
Graves Foundation Brabant is continuously looking for possible new additional information on the grave of the person.
If you are in possession of pictures, facts or stories about this particular grave or person and you want to share this with us, do not hesitate to click on the link below.
Click to share additional information.
Aanvullende informatie?
De Gravenstichting Brabant is continue op zoek naar mogelijk nieuwe aanvullende informatie over het graf of de persoon.
Bent u in het bezit van foto's, weetjes of verhalen over dit specifieke graf of de persoon en bent u bereid om dit met ons te delen, aarzel dan niet en klik op onderstaande link.
Klik hier om aanvullende informatie te delen.