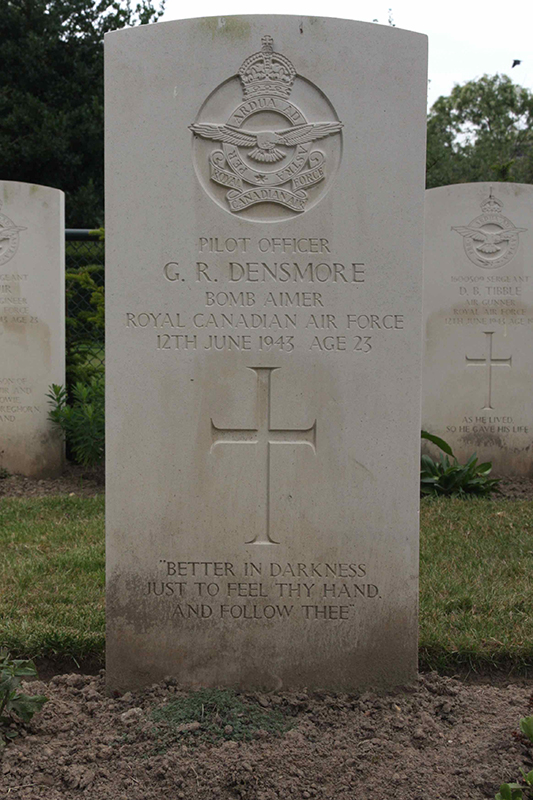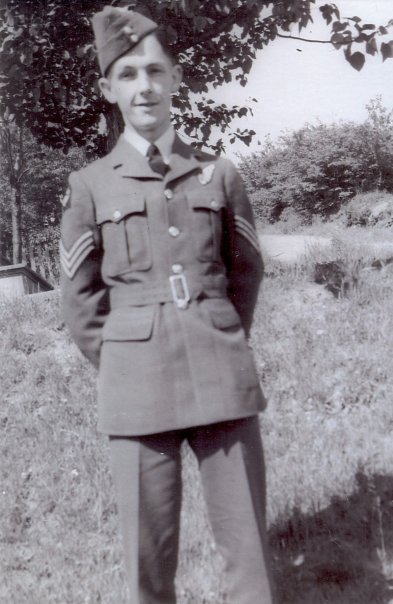 Graveyard / Begraafplaats:
Eindhoven (Woensel) General Cemetery
Location / Locatie:
JJB grave 70
Militairy Service / Krijgsdienst:
Royal Canadian Air Force
Rang:
Pilot Officer
Regiment:
429 Sqdn.
Number / Nummer:
J/17486
Age / Leeftijd:
23
Date of death / Overlijdensdatum:
12/06/1943
Son of Wendell and Blanche Densmore.
The plane, a Wellington, was driven by pilot and Conroy was on the way to an attack on Dusseldorf, crashed at 01:15 at Zijtaart (Veghel). Set sail from Eastmoor Airport at 23:00.
5 soldiers come, F / Sgt. R.F. Conroy survived and returns on October 2, 1943 Back in England.
Conroy and his crew were already crashed earlier in the night of 5 to March 6, 1943 after a raid on Essen. Prominent one dead and Conroy, Burns and Densmore were injured. At the crash in Zijtaart killed all the crew except Conroy, who also managed to stay out of the hands of the Germans and return to England. But his luck did not. In an attack, he was shot again in Berlin on March 25, 1944 and this time he did not survive (the rest of his crew, moreover, indeed).
The plane was shot down by the 31 year old German driver Bruno Eickmeier 2 / JG1
W / O. J. Burns (RCAF) is buried in the Canadian War Cemetery in Groesbeek
Regarding the time of the crash, we expect not having achieved ever Dusseldorf.
Sergeant Conroy describes his journey after the crash on June 12, 1943.
The night was clear and the moon almost full. We had just climbed to an altitude of about 17,000 feet before the enemy border (the Dutch coast) crossing where we made the usual flak encountered and some light evasive maneuvers. We saw a fake airfield sort of the orbit 2 kilometers southwest of Oirschot with counterfeit aircraft that looked like they were off.
The Wellington was flying at about this height, special and nothing happened until we came close to Eindhoven, but I think we flew a few kilometers north of the route at this point.
I had just begun to climb to 19,000 feet and made only a slight movement, when several explosions immediately below occurred the plane. I thought of flak. I only saw red sparks and flashes in his peripheral vision. I immediately tried to make an evasive move, but discovered that I had no control over the aircraft. Immediately after the explosions was the airplane into a dive to get down and out of control. I tried to get the plane back under control, but the movements with the stick had no effect on the plane and I gave orders to leave the plane. The time between the plane was hit and the order to leave the aircraft was less than a minute.
I received no response to this command from one of the rest of the crew, and I thought that the intercom was damaged in the attack. I left my seat and opened the door behind me. I saw a bemanninglid, I think it was the navigator, coming forward with his parachute on. Because the aircraft is still completely rudderless swooped down, I picked up in my parachute from the rack and put it on. I saw that it was quite torn in two places. When I opened the escape hatch and ducked out with my head first and my helmet ap. I pulled almost on the rope and the decline lasted about two minutes. I landed in a soft open field south of Eindhoven (must be Zijtaart) and made a decent tasting.
12 June. I landed in a field not far from the crashed Wellington (near Zijtaart a few kilometers south of Veghel). I buried my parachute in the mud in a field and wore my 'Mae West' until I could hide somewhere in a ditch. When I started to walk in a north-westerly direction, away from the unit, which was about 2 kilometers away burning. I walked until morning came and held me the whole next day hidden amid high corn field.
June 13th. About an hour before dark, I came out of the cornfield and began to walk until I got close to the village. I kept me hidden overnight in another cornfield. In the morning around 10 o'clock I started to walk again, but after about an hour I came to a hardened road with heavy traffic. (Possibly the way from Den Bosch to Eindhoven). I realized that I could not unseen stabbing on the road. Because I still had my uniform on, I kept me hidden in a ditch along the road. Until that moment I had eaten my wart chocolate box getaway, and I milked a few cows in my water bottle. At 10 o'clock in the evening I came out of the ditch, crossed the road and walked all night long in a north-westerly direction through the fields. I continued the next day (June 14) through the whole day.
14th of June. At 2 o'clock in the afternoon I stopped at a remote farm. I loved the farm long eye about an hour and only saw a woman and two children. I will also that there was no phone line to the house. It was raining, I was cold and hungry. I went to the house and got something to eat after I clearly know the woman to whom I was. She was very friendly but clearly wanted to keep me out of the house. Eventually she said that police officers were nearby, but I think this was just an excuse to get rid of me.
I walked on in a northwesterly direction until about 10 pm. I stopped at another remote farm. The only people I saw was a woman and a little girl, but when I went inside, I saw that there were two men. Without saying who I was, I asked for some food. They recognized my uniform does not, I had removed the insignia. When I spoke with one of the men alone, and I pointed out a reference to the British in a newspaper that I had found two dagene brighter in the field. When she discovered that I was a Briton they gave me a good meal.
APPROXIMATELY After an hour, the two men went away and came back with a man from the neighboring town Oirsschot, ongveer 10 kilometers southeast of Tilburg. When I told the guy (possibly veterinarian Dr. McCain) I he said that was impossible wanted to go to Spain, and he suggested there bliijven during the remainder of the war, or else to try to go to Switzerland. When I insisted that I wanted to go to Spain, especially he eeb me to another house in the same village (east of Oirschot). I slept that night in a barn.
June 15. The next day the man took out Oirschot me civilian clothes and took me in the afternoon to his home. We went by car to Esbeek on the Belgian border, about 12 kilometers north-east of Tilburg, where he left me in a restaurant. (Waarscshijnlijk holiday hotel Rustoord). At 8 o'clock in particular, a Dutch policeman (Marechausee, in this case Karst Smit of Smit – van der Heijden group) a photograph of me to arrange a Belgian identity card for me. I slept the night in the house of the owner of the restaurant.
One of the Dutch policemen told me that RAF pilots being halted in the Netherlands by a police officer must identify immediately. He told of a case where an RAF pilot was arrested by an agent and hid his identity. He was then taken to the main police station, where the officer could do nothing more to prevent that he would be handed over to the Germans. If he was who he was immediately told, the police had brought him across the border.
At 8 pm, the police took me to a hole dug in the woods south of Esbeek (estate Utrecht) where four Dutch students were hiding to evade employment in Germany. I stayed with them until the 18th morning.
June 18th. At 5 o'clock in the morning took me another policeman by bicycle to a place in a forest about 2 kilometrer from the Belgian border. From here we walked to the border, where the first police officer served. He gave me a Belgian identity card and handed me over to a smuggler (Fox, Jos van der Heijden) and his son (Eugene van der Heijden). The latter, a student who spoke English, took me across the border to a village (Mature), from where we went to Turnhout by tram. Via Antwerp we went to Brussels where we arrived around noon. (In Brussels he was transferred to Marie Krauss, a fashion designer, who was the contact person at that time for the Dutch Hilvarenbeek group) .In Brussels I met Sergeant Bailey, also of 429 Squadron in Brussels. He told me that he also shot the same night was by a hunter near the Belgian-Dutch border, and that three of his crew were captured. Brussels was also told me that was captured one of my crew members.
From here my trip organized by the organization of various departments of the underground resistance.
People like him were passed from one person to another, without knowing more than the next contact. Often a pilot was not picked up as the one who had already left the area somewhere delivered him. Through one after the other department to whom they were transferred always, Conroy reached late September Gibraltar and from there he returned to England.
In the pictures:

Chrashsite HE593 situation in 2005
Burns, Densmore, Knott, Godden and Conroy. This is a picture of a previous flight Conroy. On the fatal flight on June 12, 1943 Knott and Godden were not there. Burns and Densmore indeed, they lost their like Leitch and Nelson.
Bruno Eikmeier
Related / Gerelateerde
Gordon Arthur Nelson - Warrant Officer
Glenn Arthur Leitch - Warrant Officer Class I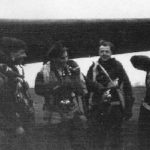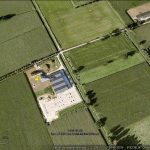 Additional information?
Graves Foundation Brabant is continuously looking for possible new additional information on the grave of the person.
If you are in possession of pictures, facts or stories about this particular grave or person and you want to share this with us, do not hesitate to click on the link below.
Click to share additional information.
Aanvullende informatie?
De Gravenstichting Brabant is continue op zoek naar mogelijk nieuwe aanvullende informatie over het graf of de persoon.
Bent u in het bezit van foto's, weetjes of verhalen over dit specifieke graf of de persoon en bent u bereid om dit met ons te delen, aarzel dan niet en klik op onderstaande link.
Klik hier om aanvullende informatie te delen.