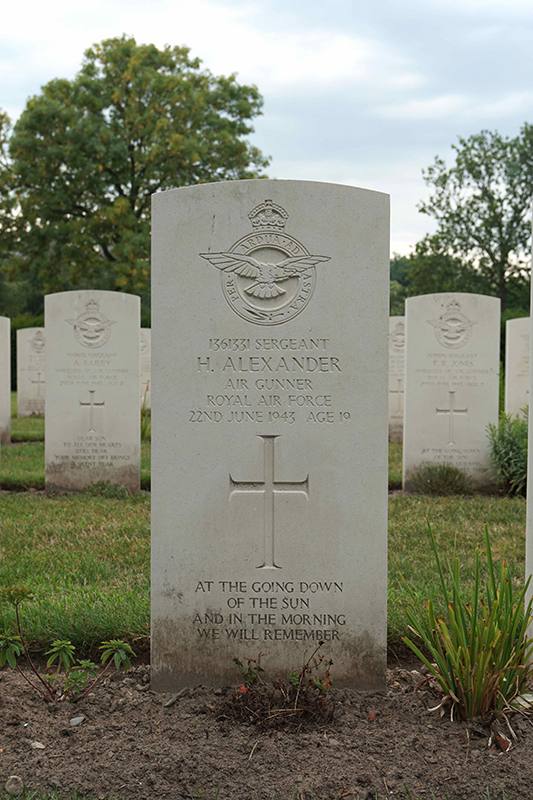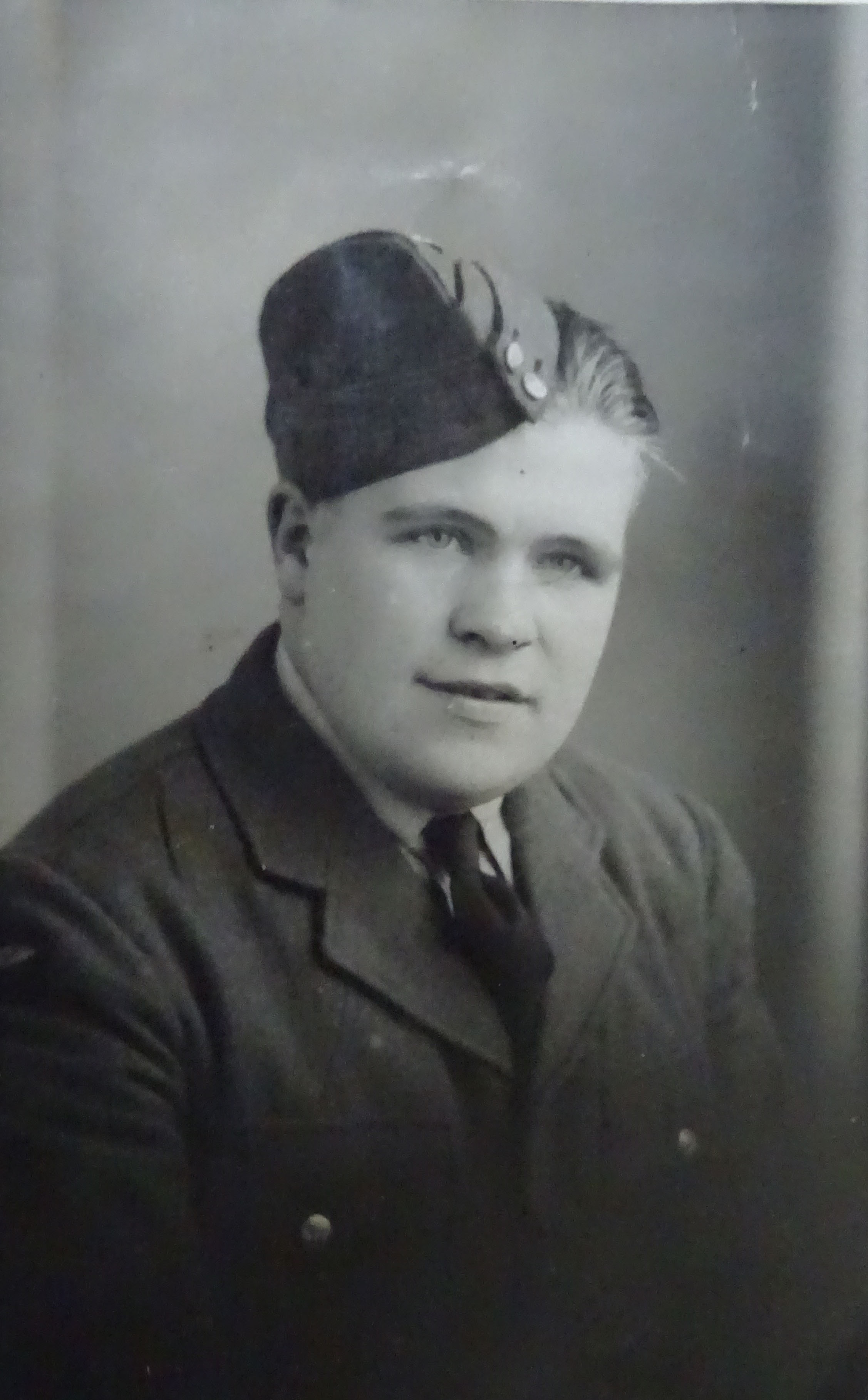 Graveyard / Begraafplaats:
Eindhoven (Woensel) General Cemetery
Location / Locatie:
EE grave 3
Militairy Service / Krijgsdienst:
Royal Air Force Volunteer Reserve
Rang:
Sergeant
Regiment:
57 Sqdn.
Number / Nummer:
1361331
Age / Leeftijd:
19
Date of death / Overlijdensdatum:
22/06/1943
Place of death / Overlijdensplaats:
Boxtel
Son of Robert Greig Alexander and Rachel Dryburgh Alexander from Dunfermline; Fife.
Tuesday, June 22, 1943 at 1:50 pm an appliance burning crashed north of Boxtel in a forest behind bar "" The Chain "" the Bosscheweg. The unit had taken off from Scampton airport bound for Krefeld. The unit was on the way. An unknown number of soldiers with a parachute jumped from the plane. Only one soldier would have survived and were captured, which is contradicted in the documents. Also on the ground made this crash victims. Almost immediately warned by the observation post, the Boxtel fire tore at about 2:15 pm from because of a fire in the cafe chain. In about five minutes they were on the spot to find that was not the cafe on fire, but there is a burning plane in the forest was behind the bar, crashed at about fifty meters from the villa New Eikenhorst Mr Kerstens. There were housed evacuated old people at that time. While waiting for the firemen to Bosscheweg further instructions, appeared German soldiers who ordered to put the plane. There was discussion between the fire chief of Erp and the German commander about the potential danger of bombs in the unit. The head of the Air Protection Department, W.V. van den Heuvel, had already told the firefighters that they rather had to tackle the various fires in the forest than the plane itself.
But the Germans insisted that there was no danger. That was soon belied by a loud bang, which a phosphorus or demolition bomb exploded.
One firefighter, Peter van der Ven, was killed. Another fireman, Martinus Goossens, was so badly injured that he not long afterwards succumbed to his injuries. Three other firefighters, Martinus Stoffels, Johannes van der Linden and John van den Breekel also seriously injured, like the aforementioned head Luchtbeschermingsdienst van den Heuvel, sister Hilda Pennings, Mayor Thomas and the fire chief Michiel van Erp. Also in the house were some old people injured by the blast. They were taken to the hospital Boxtel, while other residents were elsewhere roof.
Sergeant LJ Ray is buried at Runnymede, panel 162
All seven crew members of the flight arrived were killed.
Related / Gerelateerde
George Graham Kitson - Sergeant
Arthur Douglas Pain - Sergeant
Maynard Hargrave Burston - Sergeant
George Albert Robinson - Sergeant
George Hull - Sergeant
Additional information?
Graves Foundation Brabant is continuously looking for possible new additional information on the grave of the person.
If you are in possession of pictures, facts or stories about this particular grave or person and you want to share this with us, do not hesitate to click on the link below.
Click to share additional information.
Aanvullende informatie?
De Gravenstichting Brabant is continue op zoek naar mogelijk nieuwe aanvullende informatie over het graf of de persoon.
Bent u in het bezit van foto's, weetjes of verhalen over dit specifieke graf of de persoon en bent u bereid om dit met ons te delen, aarzel dan niet en klik op onderstaande link.
Klik hier om aanvullende informatie te delen.