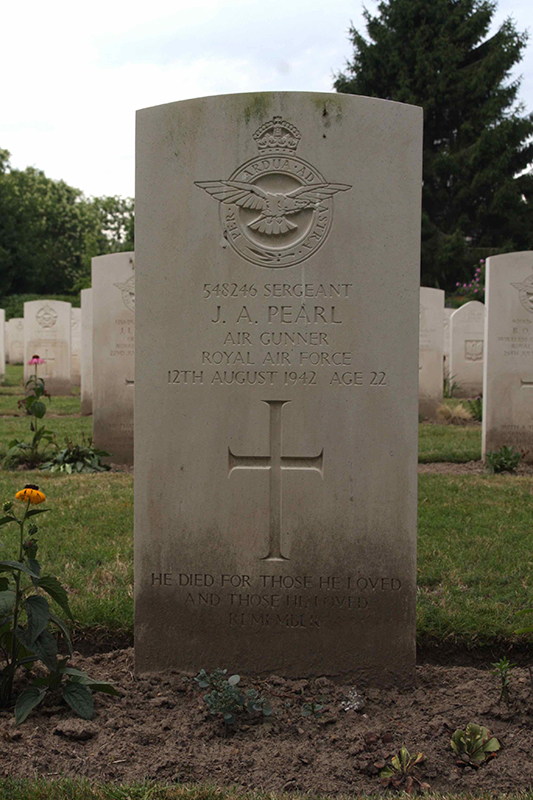 Graveyard / Begraafplaats:
Eindhoven (Woensel) General Cemetery
Location / Locatie:
JJ coll. grave 107-110
Militairy Service / Krijgsdienst:
Royal Air Force
Rang:
Sergeant
Regiment:
156 Sqdn.
Number / Nummer:
548246
Age / Leeftijd:
22
Date of death / Overlijdensdatum:
12/08/1942
Place of death / Overlijdensplaats:
Lierop
Son of Robert and Virginia Mary Pearl from Ardgay Ross and Cromarty.
August 12, 1942 3:30 pm, a burning bomber skims past the house of the family Heugten Van Lierop. The plane collapsed a little further down in a pine grove. 44 years later, on September 20, 1986, near the grove to the Vaarsehoefseweg, a memorial is unveiled in memory of the five crew members killed.
The bomber was a Wellington Mk III, the BJ603, which belonged to No. 156 Squadron, No. 3 Group. Interestingly, the motto of No. 3 Group, the Dutch text was "" Not without arbyt "". This is because most squadrons flew over the Netherlands on their way to targets in Germany. The motto of No. 156 Squadron was "" We light the way "," this seems more from its Pathfinder period after August 15, 1942, to tribes.
In the evening of Tuesday, August 11th, 1942 left 154 British bombers, of which 68 Wellingtons, from their bases in England for a night attack on the city of Mainz in Germany, near Frankfurt am Main. The BJ603 departed at 22:39 pm (local time) from Alconbury airfield.
Mainz was bombed because it was a major hub in the German railway network. There was also a lot of industry and found a large river port. Seems the choice depended Mainz being the number of bombers that the RAF could use that night. This fact makes little sense to attack a small target when you (too) many bombers have at your disposal.
The crew of the bomber BJ603 consisted of:
Sergeant Morris, William Richard (20 years)
Sergeant Moss, Robert William (23 years)
Sergeant Murray, Donald Emslie (22 years)
Sergeant Pearl, John Alister (22 years)
Pilot Officer Taylor, Charles Frederick (32 years)
On the way back to England, however, was the bomber by Feldwebel (sergeant) Spille intercepted. Spille sergeant belonged to the German night fighter unit 3./NJG 1 (3rd Staffeln, 1st Gruppe, 1st Nachtjagdgeschwader) and flew into a Messerschmidt Bf110. His unit was stationed at the airport Venlo. Wellington clipped, already burning, past the house of the family of Heugten the Vaarsehoefseweg in Lierop, a small town south of Helmond. The plane crashed at 03:30 pm (local time) down on Wednesday, August 12th, 1942.
Feldwebel Walter Spille, born on March 22, 1912, shot his first bomber crashed on June 9, 1942. The bomber, a Wellington, crashed at Bakel. The bomber belonged to No. 103 Squadron. Two months later, on the night of July 31 and August 1, 1942 he shot his second bomber, a Halifax of No. 405 Squadron, down. His third and last victory was the Wellington van Lierop. Spille himself was on August 28, 1942 Top Gouda shot and is now buried in Ysselstein.
Feldwebel Spille flew with his boordmarconist Unteroffizier Johann Becker. He was born on June 12, 1913 and died along with Spille in Gouda. Spille flew during the shooting down of the Wellington van Lierop, however, with another wireless operator, Feldwebel Alfred Schöpke. He survived the war, because he was shot on July 4, 1943 during a flight Haupmann Siegfried Wandam, commander of I./NJG 5 (1st Gruppe, 5th Nachtjagdgeschwader). Both are buried in Lommel, Belgium.
The Germans were quick with their bikes on the spot, thus it was not until the morning before son Jan Heugten and to watch his brother dared. The bomber was very hard beaten to the ground, there was nothing left of it and debris scattered everywhere. The crew members, all of whom died, were maimed beyond recognition. Morris, Murray, Pearl and Taylor are buried in a collective grave. They all lie on the Eindhoven cemetery at the Old Tower in Woensel, Eindhoven.
In the same attack lost the 156th Squadron 2 other bombers, the X3798 (above Tildonk, Belgium) (1) and the Z1595. The next night (12 August 13) Mainz was again attacked, also No. 156 Squadron was involved. This time, the squadron lost no planes.
No. 156 squadron was like home to Alconbury airfield in the county of Cambridge. No. 156 Squadron was formed on February 14, 1942 at the airport. No. 40 Squadron, which until that date at the airport was stationed and also served as a basis for the new No. 156 Squadron, then was transferred from Malta to the Middle East.
A few days after the crash, on August 15, 1942, this Wellington's 156 Squadron was transformed into a Pathfinder unit. The squadron fell from that day under the command of No. 8 Group and flew from airport Warboys. It flew up in January 1943 with Wellingtons, then switched it over to the four-engined Avro Lancaster bomber. The Alconbury airfield was after moving to Warboys acquired by American B-24 Liberator bombers of the 93rd Bombardment Group, there remained a few months before moving to another airport.
Related / Gerelateerde
William Richard Morris - Sergeant
Robert William Moss - Flight Sergeant
Donald Emslie Murray - Sergeant
Charles Frederick Taylor - Pilot Officer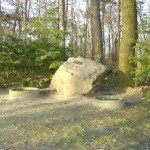 Additional information?
Graves Foundation Brabant is continuously looking for possible new additional information on the grave of the person.
If you are in possession of pictures, facts or stories about this particular grave or person and you want to share this with us, do not hesitate to click on the link below.
Click to share additional information.
Aanvullende informatie?
De Gravenstichting Brabant is continue op zoek naar mogelijk nieuwe aanvullende informatie over het graf of de persoon.
Bent u in het bezit van foto's, weetjes of verhalen over dit specifieke graf of de persoon en bent u bereid om dit met ons te delen, aarzel dan niet en klik op onderstaande link.
Klik hier om aanvullende informatie te delen.