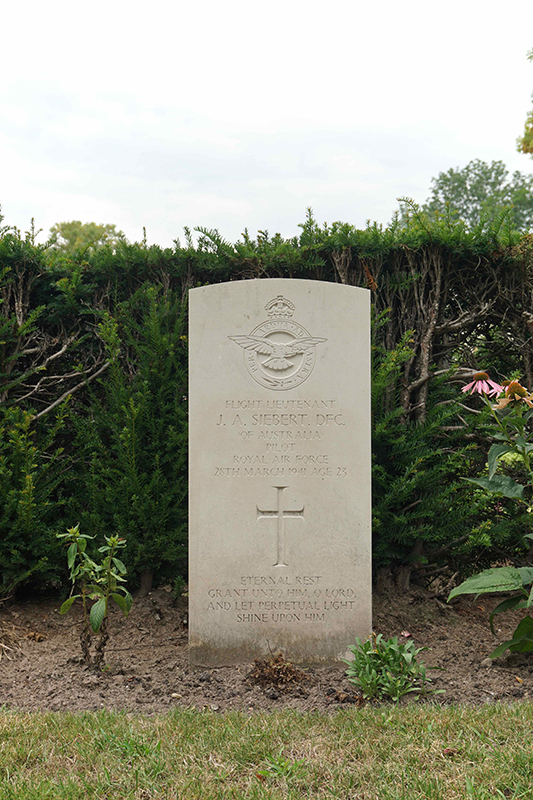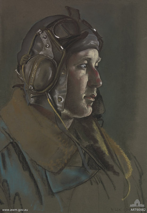 Graveyard / Begraafplaats:
Eindhoven (Woensel) General Cemetery
Location / Locatie:
FF Graf 4
Militairy Service / Krijgsdienst:
Royal Australian Air Force
Rang:
Flight Lieutenant
Regiment:
207 SQN RAF
Number / Nummer:
36155
Rewards / Onderscheidingen:
Distinguished Flying Cross
Age / Leeftijd:
23
Birthplace / Geboorteplaats:
Adelaide, Australie
Date of death / Overlijdensdatum:
28/03/1941
Place of death / Overlijdensplaats:
Bakel
Son of Francis Joseph and Mary Ella Siebert from Kingswood South Australia.
John was an Australian pilot who fought in the Royal Air Force (RAF) in World War II. He was born in South Australia in the city of Adelaide in 1917, and after leaving school, he later decided on an Air Force career, and accordingly enlisted in the Royal Australian Air Force (RAAF). His flying training was carried out at the Point Cook Flying Training School, and in June; 1938, he finally graduated with his "wings". In July that year; he was sent off to England to serve with the Royal Air Force (RAF). He later flew many hours on operational duties, most often in adverse weather conditions. He soon displayed outstanding courage and grim determination in carrying out his attacks on enemy forces, and for these brilliant qualities, Fligbt-Lieutenant John Aloysius Siebert was soon decorated with the Distinguished Flying Cross (D.F.C.).
John was the first Allied pilot who was buried in the cemetery of the Old Tower in Eindhoven. He was killed during a mission flight to Dusseldorf with the Avro Manchester L7303 EM-P of the 207 Squadron RAF. The rest of the crew survived and was taken prisoner. On March 29, 1941 Siebert was with military honors, English flag on the coffin, buried by a German air force delegation and a music chapel "Ich hatte einen comrades played in tribute to the fallen pilot. The funeral was attended by the Eindhoven population and many flowers were laid on his grave. The massive attention from the Eindhoven population (thousands decorated with national ornaments and orange) did conclude the Germans, following funerals always to place early in the morning to find where the roads were closed around the cemetery. Initially Siebert was buried in a grave citizen, later he was transferred by the Eindhoven Public Works to a central place in the cemetery which later were buried more Allies, all without the knowledge of the German occupiers.
Siebert was bearer of the Distinguished Flying Cross, "the British Kite Cross.
On March 27, 1941 lap at 23.30 a German night fighter, flown by Ofw Herzog, down a British Avro Manchester I. The bomber of the 207 Squadron, F / Lt John Aloysius Siebert (23) as a pilot, crashed at the ranch van Roessel. Siebert died, but the other six crew members were timely leave the plane and survived the crash. Sgt. Robson, Sgt. Formison, Sgt. Taylor, Sgt. McDougal and Sgt. Gurnell were taken prisoner.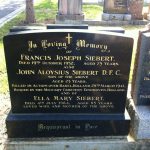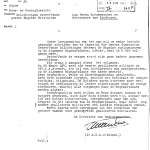 Additional information?
Graves Foundation Brabant is continuously looking for possible new additional information on the grave of the person.
If you are in possession of pictures, facts or stories about this particular grave or person and you want to share this with us, do not hesitate to click on the link below.
Click to share additional information.
Aanvullende informatie?
De Gravenstichting Brabant is continue op zoek naar mogelijk nieuwe aanvullende informatie over het graf of de persoon.
Bent u in het bezit van foto's, weetjes of verhalen over dit specifieke graf of de persoon en bent u bereid om dit met ons te delen, aarzel dan niet en klik op onderstaande link.
Klik hier om aanvullende informatie te delen.