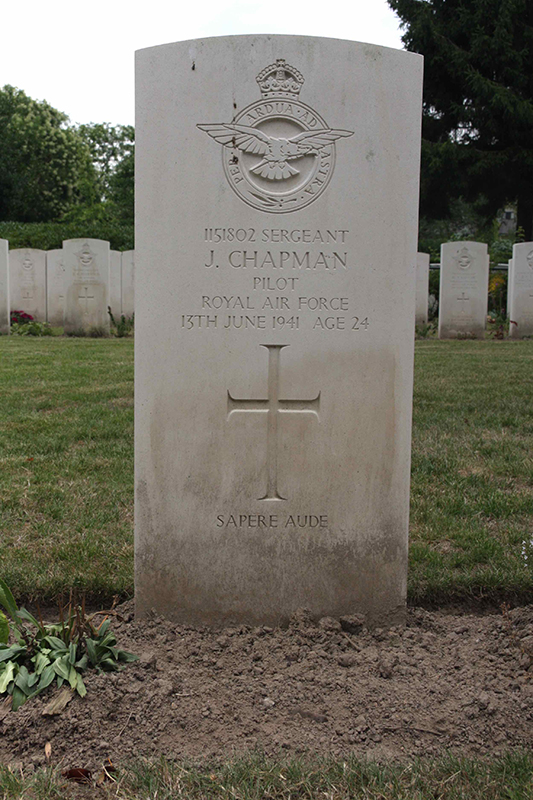 Graveyard / Begraafplaats:
Eindhoven (Woensel) General Cemetery
Location / Locatie:
JJ grave 17
Militairy Service / Krijgsdienst:
Royal Air Force Volunteer Reserve
Rang:
Sergeant
Regiment:
102 Sqdn.
Number / Nummer:
1151802
Age / Leeftijd:
24
Date of death / Overlijdensdatum:
13/06/1941
Son of William John and Mary Elizabeth Chapman from Lutterworth, Warwickshire.
On June 13, 1941 at 3:18 pm plunged an Armstrong Whitworth Whitley V of the 102 Squadron down. The aircraft was flown by Sgt J. Chapman and was on a bombing mission to Schwerte. Given the time the Whitley on the way back was shot down by a German night fighter. Long thought that piloted by Lt Knacke 2 / NJG 1, but it appears no results have been reported for this night. It was probably another German "ace", namely Hptm Hans-Dieter Frank.
The entire crew of the bomber died in the crash. They were besides the pilot John Chapman (24) gunner Sgt James Hall (19); gunner Sgt John Mathew Bailey Tunnah (30); bombardier P / O Raymond Woodrow Dawson (22); co-pilot Sgt John James Franklin (RAAF) (25); radio operator Sgt Kenneth Ridd Winter (2). Sgt James was found after nine days, presumably with the salvage of the wreck.
The aircraft came down in Gale Serbian Akkers the Genneperweg. In daylight a large group arrived there on the curious away. One of them loudly declared that there was not burned a British plane, but a German was still before dawn provided the Germans with British license plates. People laughed, but in the crowd were also others who Johannes Boons indicated by the German Ortskommandant in Eindhoven, where he was taken to on June 15 for questioning and awaiting his sentence for spreading false rumors.
Related / Gerelateerde
James Hall - Sergeant
John Matthew Bailey Tunnah - Sergeant
Raymond Woodrow Dawson - Pilot Officer
John Franklin James - Sergeant
Kenneth Ridd Winter - Sergeant
Additional information?
Graves Foundation Brabant is continuously looking for possible new additional information on the grave of the person.
If you are in possession of pictures, facts or stories about this particular grave or person and you want to share this with us, do not hesitate to click on the link below.
Click to share additional information.
Aanvullende informatie?
De Gravenstichting Brabant is continue op zoek naar mogelijk nieuwe aanvullende informatie over het graf of de persoon.
Bent u in het bezit van foto's, weetjes of verhalen over dit specifieke graf of de persoon en bent u bereid om dit met ons te delen, aarzel dan niet en klik op onderstaande link.
Klik hier om aanvullende informatie te delen.