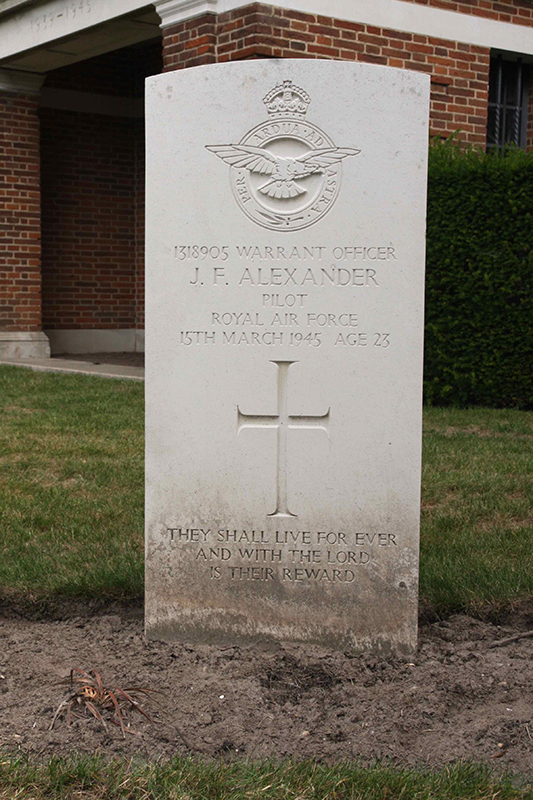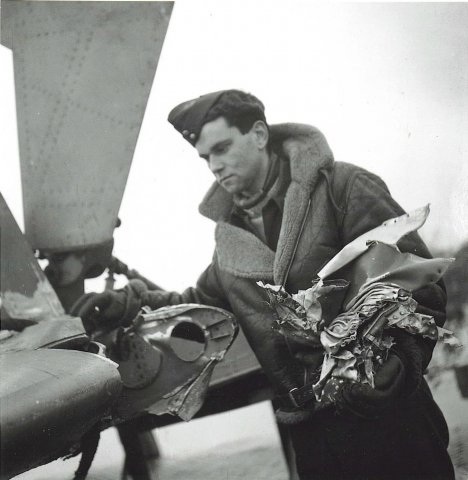 Graveyard / Begraafplaats:
Eindhoven (Woensel) General Cemetery
Location / Locatie:
RR grave 46
Militairy Service / Krijgsdienst:
Royal Air Force Volunteer Reserve
Rang:
Warrant Officer
Regiment:
56 Sqdn.
Number / Nummer:
1318905
Birthdate / Geboortedatum:
06/12/1921
Birthplace / Geboorteplaats:
Hungerford, Berkshire
Date of death / Overlijdensdatum:
15/03/1945
Son of Joseph Roy and Constance Elizabeth Alexander from Hungerford; Berkshire.
Born 6 December 1921. Parents Joseph Roy Alexander born 17 December 1892. He was an Agricultural & Coal Merchant. During WW2 he was a Special Constable too. Constance Elizabeth Alexander (born Tame) born 3 March 1896. In 1939 the family were living 120 High St, Hungerford, Berkshire.
Warrant Officer Alexander was educated at Newbury Grammar School. He worked on farms before attending Agricultural College at Sparsholt. He then went on to study for an agricultural degree at Reading University for 18 months before joining the RAF. He was sent to Oklahoma, USA in 1941-42 for pilot training. On returning to the UK he attended 56 OTU before joining 56 Squadron.
He was a Hawker Tempest fighter pilot, part of 122 Wing of 2nd Tactical Air Force.
On the 17 Dec 1944 the squadron operational record book recorded the following : W/O Alexander found himself in the middle of 9 Hun and though he had a shaky 'do', he managed to damage a 109. On return to base he found a large piece of enemy aircraft embedded in his port wing, between the cannon. On that particular day his squadron had destroyed 6 and damaged 1 enemy plane. They had also destroyed enemy tanks.
The Newbury Weekly News 15/1/1945 and 8/3/1945 ran stories reporting he was involved in squadron operations damaging 74 locomotives, 81 railway trucks and 39 vehicles. The report quoted him as saying he got separated from the other aircraft and began to make his way to base when he saw 8 petrol wagons in a siding of a station near Einbeck and strafed them. Four blew up. He then saw four trains and after damaging one went in for a second attack before his guns jammed and he was under attack from 6 Flak Guns so returned to the squadron base at Volkel.
15 March 1945 while testing a new plane he was unable to get the undercarriage down. After several attempts he decided to force land and radioed his intention. As he touched down the radiator of the Tempest under the propellor dug into the ground and flipped the plane onto its back and it exploded killing Joe. Many had attempted this sort of landing in a Tempest and survived it. Joe was unlucky.
His Commander, Flt.Lt. G.B.William wrote to W/O Alexander's parents on the 16th March 1945.
Dear Mr Alexander,
By the time you receive this letteryou will already have been notified by telegram that your son, Warrant Officer Alexander, lost his life yesterday as a result of flying operations. Alec ( as he was known to us) was coming in to land from a flight, when it was seen that his landing wheels were not down, and it was apparent that he was attempting to make a belly landing on the verge of the runway. Unfortunately he was unsuccessful, and the aircraft turned over.
Alec died of his injuries very shortly afterwards. I am able to say that he did not suffer, as he never regained consciousness.
It is with feelings of the deepest regret, both on my own behalf, and on behalf of the whole squadron, that i have to give you this news. Alec was one of the most experienced and skilful pilots in the squadron, and was also one of our oldest members. His cheerful personality had made him popular with both officers and men, and it would indeed be difficult to fill his place.
Alec's effects are being gathered together and will be forwarded to the Royal Air Force Central Depository, from which they will eventually be forwarded to you.
Please accept my sincerest sympathy in this period of sorrow, a sympathy which is shared by the whole squadron.
Our deepest admiration goes out to men like Alec, who inspired by a great cause, put everything at stake.
I have given you the facts as we know them. If you feel there is any other way in which I can help, i do hope you will not hesitate to write.
Joseph was in B Flight in Volkel Holland.
OPERATIONAL RECORD BOOK
1 Jan. 1945 New Years Day the Hun decided to try and fix up all our airfields, but he got an unpleasant shock. 125 were destroyed by 2nd TAC and 6 trains 3 destroyed and 3 damaged.
2 Jan Bad weather. Only 1 operation which was aborted. Final arrangements made for squadron party.
3 Jan completely uneventful day
4 Jan Bad weather again in morning, but afternoon cleared and 2 ME109s shot down. A short but sweet day.
5 Jan A very full flying day. The bag was quite small owing to cloud cover. Two trains and a lorry will never move under their own steam.
6 Jan No flying today. Combat films shown in the afternoon, all rather disappointing – cameras must be moved to the wings.
1 March There was no flying in the morning. It cleared sufficiently in the evening however to let the Wing get airborne for a very tame sweep which netted no results.
2 March A wonderful morning dawned, but cloud soon formed to make things interesting. The Wing is now back onto sweeps no ground attacks. When near Bremen enemy activity was reported near Rhine and the Wing couldn't get there in time to engage, landing without score. A further sweep later in the morning was uneventful, surprised when some Yank Mustangs investigated but pushed off. Third sweep in evening uneventful.
3 March off very early on dawn sweep. The squadron could only muster 3 serviceable aircraft. However the sweep was done above 8/10th cloud without any incidents excepting from Spitfires which wheeled up out of cloud and stalled (almost) back in again. 16 Thunderbolts were investigated and somewhat foxed by our manoeuvres …… and passed on. Can it be the Americans have been told there are such things as BRITISH aircraft?!! A patrol was put up over Nijmegen before lunch but landed without incident. Later in the afternoon another sweep which was uneventful sighting only Thunderbolts and Mustangs.
4 March Clamp all day with early release for squadron.
5 March The Wing was released until midday. A sweep laid on late afternoon, uneventful except for heavy flak near Theine.
6 March Low cloud persisted all dayno flying except air and cannon tests.
7 March Low cloud still persisted in the morning but improved enough to let the Wing get airborne on 2 sweeps after lunch. On the way back 15 Hun turned up. A general melée ensued with aircraft everywhere, the result being when it had died down – 5 Hun for no loss.
8 March Persistant low cloud and rain spoilt any chance of operations today.
9 March A sweep took off in the afternoon around Rhine- Guterslow- Dobsten. Hun reported in the Wesel area but Thunderbolts and Mustangs sighted. Poor weather forced us to seek base with no joy except for sighting of 'Jet Job' which disappeared smartly into cloud.
10 March No Ops were carried out today, the weather being entirely U/S for sweeps.
11 March The squadron was nearly airborne in the morning to support American Flying Fortress on Kiel, but the take off was postponed for 2 hours. The squadron did eventually get airborne to patrol the Rhine area uneventfully.
12 March No Ops in the morning and the Wing was released after lunch for 24 hours.
13 March Runway readiness in the afternoon yielded a scramble which in spite of many vectors was uneventful.
14 March 1300Hrs sweep which was probably as inconvenient to the Hun as it was to us. Carried out in thick haze out of which only occasional flak bursts vectored.
15 March In the morning the squadron took four in a Wing sweep. an Arado 234 (German jet plane) was sighted and after a long chase was damaged by 80 squadron. At 1700Hrs W/O Alexander crashed while attempting to make a wheels up landing and was killed. This is a sad loss for the squadron.
16 March The weather was U/S until 1300Hrs when Wing was released. In the afternoon W/O Alexander was buried in Eindhoven.
His parents had the followig inscribed on his headstone:
THEY SHALL LIVE FOREVER AND WITH THE LORD IS THEIR REWARD
Source Dorothy Ramser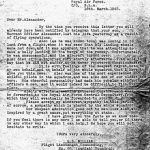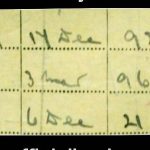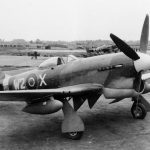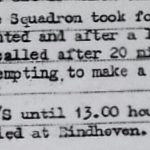 Additional information?
Graves Foundation Brabant is continuously looking for possible new additional information on the grave of the person.
If you are in possession of pictures, facts or stories about this particular grave or person and you want to share this with us, do not hesitate to click on the link below.
Click to share additional information.
Aanvullende informatie?
De Gravenstichting Brabant is continue op zoek naar mogelijk nieuwe aanvullende informatie over het graf of de persoon.
Bent u in het bezit van foto's, weetjes of verhalen over dit specifieke graf of de persoon en bent u bereid om dit met ons te delen, aarzel dan niet en klik op onderstaande link.
Klik hier om aanvullende informatie te delen.