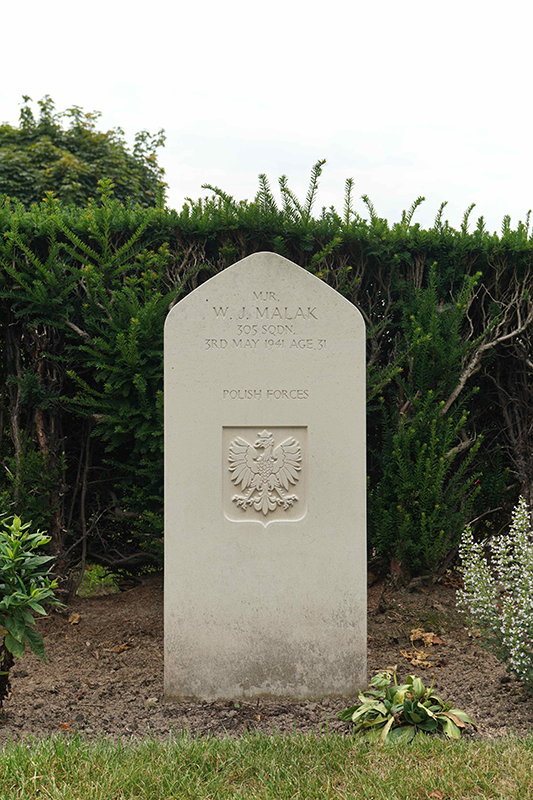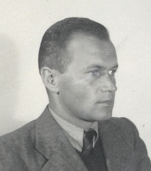 Graveyard / Begraafplaats:
Eindhoven (Woensel) General Cemetery
Location / Locatie:
Graf 2. plot FF
Militairy Service / Krijgsdienst:
Polish Air Force
Rang:
Major Nawig (Flying Officer – Navigator) Flt/Lieut. Navigator
Regiment:
305 SQN (Polish) RAF
Number / Nummer:
P.0090
Birthdate / Geboortedatum:
27/01/1910
Birthplace / Geboorteplaats:
Januszkowo p. Znin, Polen
Date of death / Overlijdensdatum:
03/05/1941
Place of death / Overlijdensplaats:
Gastel bij Budel
On May 3, 1941, a Vickers Wellington of 305 (Polish) Squadron shot down by German night fighters around 4:30 pm. The bomber was returning from a successful mission in Emden when he top Weert was attacked by Lt. Reinhold Knacke of 2./NJG 1. Four crew members knew the unit to leave time and reached unharmed the ground, where they caught a short time later were taken by German soldiers.
The total six-member crew consisted from pilot F / O Joseph Rather, 2nd pilot Sgt Tomasz Kasprzyk, observer F / O Aleksander Jastrzebski, navigator S / L Waclaw Józef Malak, gunner S / L Mieczyslaw Józef Ryszkiewicz and radio operator / gunner Sgt Tadeusz Zuk.
Waclaw Malak (31) occurred in the crash. In the grave next to him, FF. 2, located gunner S / L Mieczyslaw Ryszkiewicz (33). His body was found only a week after the crash in Dorplein in the water. The official State Police report of May 13, 1941 mentions that opened parachute lay on the water.
Of the four prisoner of war came Nogal and Jastrzebski up in Stalag Luft III at Sagan, while Kasprzyk and Zuk to Stalag IV-B were transferred to Muhlberg (Brandenburg). It was the first Polish Air Force soldiers, coming from the UK, were taken prisoner.
Related / Gerelateerde
Mieczyslaw Józef Ryszkiewicz - Lieutenant

Additional information?
Graves Foundation Brabant is continuously looking for possible new additional information on the grave of the person.
If you are in possession of pictures, facts or stories about this particular grave or person and you want to share this with us, do not hesitate to click on the link below.
Click to share additional information.
Aanvullende informatie?
De Gravenstichting Brabant is continue op zoek naar mogelijk nieuwe aanvullende informatie over het graf of de persoon.
Bent u in het bezit van foto's, weetjes of verhalen over dit specifieke graf of de persoon en bent u bereid om dit met ons te delen, aarzel dan niet en klik op onderstaande link.
Klik hier om aanvullende informatie te delen.