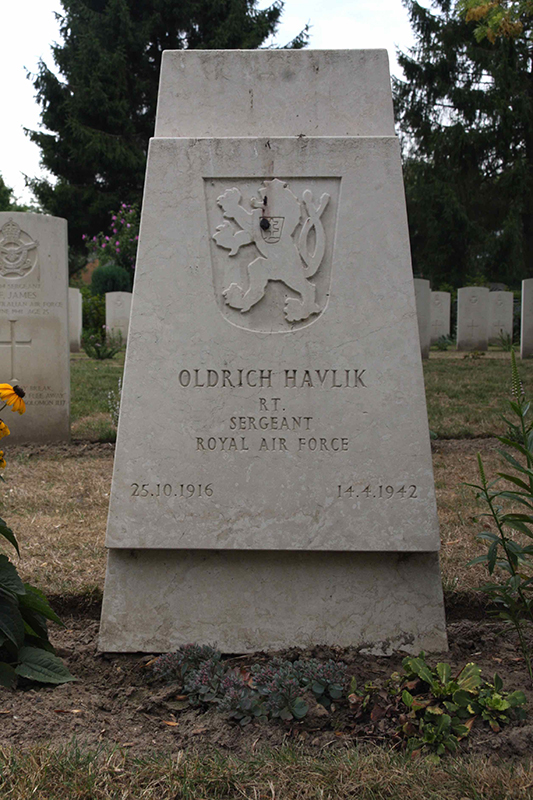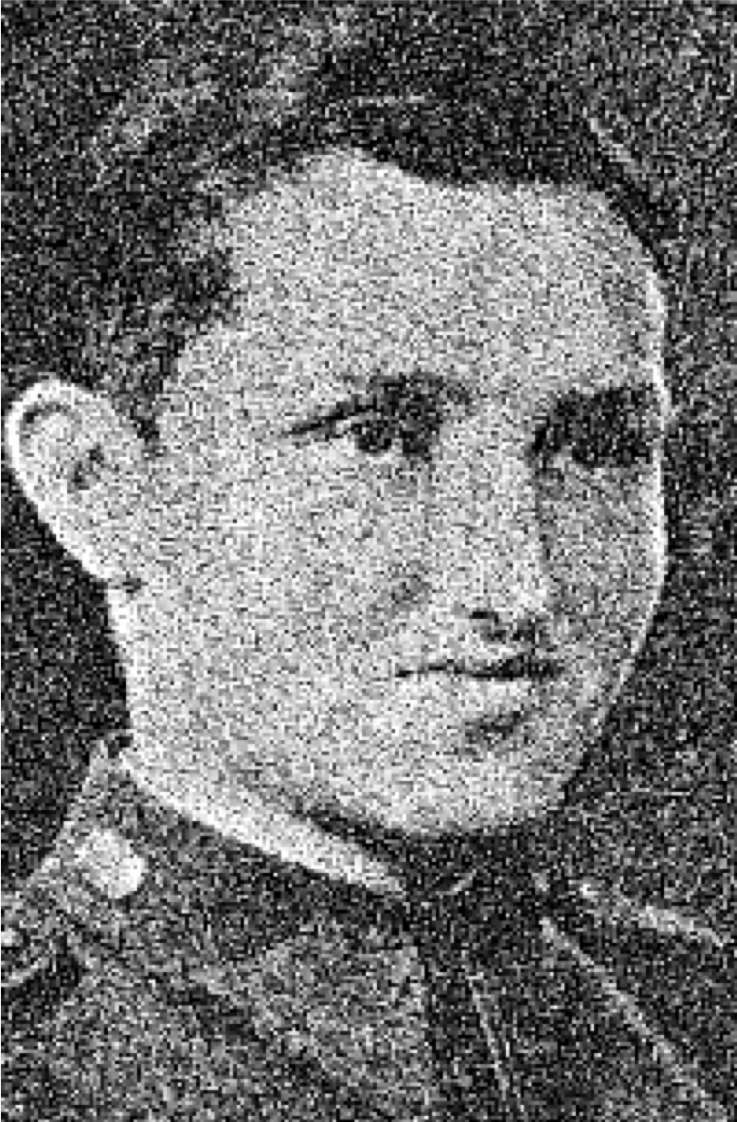 Graveyard / Begraafplaats:
Eindhoven (Woensel) General Cemetery
Location / Locatie:
JJ grave 48
Militairy Service / Krijgsdienst:
Royal Air Force Volunteer Reserve
Rang:
Sergeant
Regiment:
311 (Czech.) Sqdn
Number / Nummer:
787521
Birthdate / Geboortedatum:
25/10/1916
Date of death / Overlijdensdatum:
14/04/1942
Place of death / Overlijdensplaats:
Boshoven, Weert
On the General Cemetery Woensel in Eindhoven are three Czechoslovak war. The Czechoslovaks were in service with the RAF.
Oldrich Havlik was a Czechoslovakian, born on October 25, 1916 and died on April 14, 1942 at the age of 27, when a German night fighter hit the Wellington bomber and crashed into Boshoven. The crew consisted of six members: Oldrich, J.Talab, P. Varjan who did not survive and F.J. Zapletal, J.Klavana, V.Para who survived but were taken prisoner by the Germans. Oldrich Havlik returned from an operational flight to Dortmund on the plane of Mk.IC Wellington with the number Z1098 (KX-U) in the night of 14 to 15 April 1942. The first pilot was called Vladimir Para. Oldrich Havlik was the co-pilot, the navigator was Milan Zapletal and Josef Talab was a radio operator. Pavel Varjan was a gunner of the nose dome and Jaroslav Klvaňa was a tail gunner.
Oldrich lived together in a house with Jaroslav Hlaváč (1914-1940), his cousin, and the cousins ​​grew up together and spent their youth mainly in the Svinská street (now Havlíkova) and the Lubina river. local elementary school and went to secondary school in Jistebník After completing compulsory schooling, he was trained by a gymnast in Vítkovice.
Jaroslav served in the air force after his youth. He served in Olomouc and then, until the occupation of Czechoslovakia, in Prostějov. In the army he was a very good, brave, conscious and always friendly fighter pilot and he was honored to be a pilot of Czechoslovakian. After the Germans occupied Czechoslovakia, he escaped the Nazis in May 1939 by fleeing abroad.
Oldrich went to the pilot training in Prostejov when he was 18, and from then on served as a pilot. In October 1938 his birthplace Petřvald was occupied by the army of Adolf Hitler. He therefore left a village for a year. Oldrich undertook the long and arduous journey through Poland, Romania, Bulgaria, Greece and Turkey.
Here he boarded a ship that sailed past Alexandria, Egypt and along the North African coast. Then he went to Algiers via the Mediterranean Sea. Eventually he reached Marseille and from there he could reach his ultimate goal; Agde, a village in France. Here new units were assembled that would fight the Germans.
Havlík did not participate in the fighting in France and after capitulation of France he managed to reach the port in the southwest of England. From there he went on to various airports at various locations in England. and trained there with an English bombers plane. In England, Havlik was retrained as a pilot on bombers. Eventually he was admitted into a group that squadron the 311st Czechoslovakian night bomber. In April 1942 his bomber, a Wellington, was shot down over the Netherlands, then they were on their way back to England after a bombing flight.
Oldřich Havlík, carried out 13 very successful operational flights over Germany and the Czechoslovak "Za chrabrost pred nepritelem" received the medal for courage and a medal to be jealous of.
On his last night flight he left on 14 April 1942 together with his five co-crew members as co-pilot. The goal of the flight was the German industrial city of Dortmund. But the crew of the Wellington 48 bomber did not return from this flight.
During the return flight from Germany, the bomber was noticed by a German night fighter. This got the slow bomber in sight and opened the fire. The bomber crashed burning in the occupied Netherlands. According to the reports of the International Red Cross, Sergeant Olrich Havlik was killed along with J.Talab, P. Varjan in German-occupied Holland and was buried April 16, 1942 at the military cemetery in Eindhoven.
The President of the Czechoslovak Republic Dr Eduard Benes rewarded both heroic fighters in January 1947 with a recognition of their merits for Czechoslovakia. The Ministry of National Defense announced in February 1947 that Jaroslav Hlaváč and Oldřich Havlík were promoted to the staff of the Air Force Staff in reserve.
On April 14, 1942 at 22:25 departed from basic East Wretham a Wellington bomber on board with a six-member fully Czechoslovak crew. The aircraft was hit over the Netherlands by the German night fighter and crashed into Uffz.Schienbein 2./NJG1 Boshoven (Limburg). Half of the crew, consisting O.Havlik from Sgt, Sgt J.Talab and Sgt P.Varjan died in the crash, they were buried in Eindhoven. The survivors; F / O M.F.J.Zapletal, Sgt J.Klvana and Sgt V.Para prisoners were taken by the Germans.
The students, Julia van de Pasch & Marit Hoppenbrouwers, of the Stedelijk College in Eindhoven conducted research and found the above findings. Their full report (in Dutch) with a lot of additional information can be viewed via this link.
Related / Gerelateerde
Paval Varjan - Sergeant
Josef Talab - Sergeant
Additional information?
Graves Foundation Brabant is continuously looking for possible new additional information on the grave of the person.
If you are in possession of pictures, facts or stories about this particular grave or person and you want to share this with us, do not hesitate to click on the link below.
Click to share additional information.
Aanvullende informatie?
De Gravenstichting Brabant is continue op zoek naar mogelijk nieuwe aanvullende informatie over het graf of de persoon.
Bent u in het bezit van foto's, weetjes of verhalen over dit specifieke graf of de persoon en bent u bereid om dit met ons te delen, aarzel dan niet en klik op onderstaande link.
Klik hier om aanvullende informatie te delen.