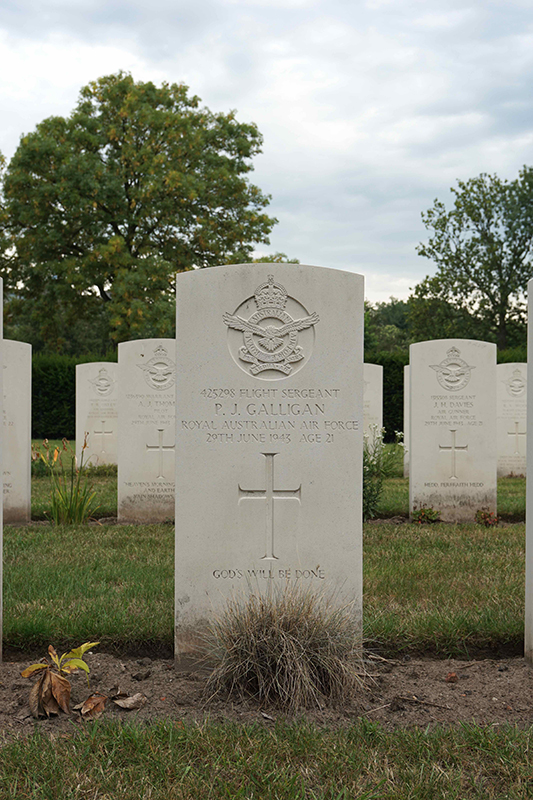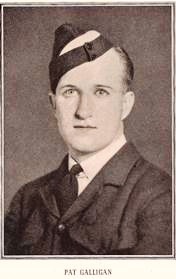 Graveyard / Begraafplaats:
Eindhoven (Woensel) General Cemetery
Location / Locatie:
EE coll. grave 54-56
Militairy Service / Krijgsdienst:
Royal Australian Air Force
Rang:
Flight Sergeant
Number / Nummer:
425298
Age / Leeftijd:
21
Date of death / Overlijdensdatum:
29/06/1943
Son of John and Emma Theresa Patrick Galligan from Cloncurry; Queensland; Australia.
His brother Edwin Richard Galligan also died in the 2nd World War.
On June 29, 1943 2:54 came a Lancaster bomber I of 44 Squadron of the RAF down in Nuenen, the Pastor Mast. The aircraft was flown by Sgt. C.V.L.R. Hulbert and was part of a large fleet of 608 aircraft with Cologne as a target. In this raid were lost 25 aircraft, including at Aalst, Boekel, Netersel, Waalre and Aarle-Rixtel came down.
The Lancaster Hulbert was shot down by German night fighter Major Günther Radusch (I / NJG1), which that night was also responsible for the crashes in Waalre and Aarle-Rixtel. All seven crew members, pilot Hulbert, Sgt. D.M. Lewis, Sgt. YES. Sykes, Sgt. A. Tooth, Sgt. T. Rees Jones, Sgt. G. A. Denney and F / S P / J. Galligan died in the crash.
Patrick 'Pat' James Galligan was killed in a raid over Cologne. It was his first raid of the war.
Pat was a talented poet and in 1943 wrote the following poignant poem about serving in Bomber Command:
There's sadness on my soul.
For now i fear, the future near,
That death may be my goal.
The lights of earth have lost their mirth
Dim for war's tragedy
Whose spotlights rake the skies and make Battlefields there for me
The friendly moon is now no boon New hail drops from the clouds Hate-Lightnings form in this new storm:
Our planes become our shrouds
But melodies are memories;
You'll hear them shout not i
And peace will come to men – For this we stake to die.
By Patrick James Galligan 1943
He loved Australia and saw his role in the RAAF as a crusade and saw his fate as the will of God.
To fight those men i know not
Love not, hate not, but pity only for their credences
That set a Caesar on the throne of God
And should i go into the darker lands
That know not peace as did this smiling continent
Old like an ancient eucalypt
Whose life is in its bark
Its centre dead with age
I'll take a fragment of the land
A living though unworthy part – myself
With the Southern Cross my headstone
And Queensland stars my epitaph
Written on the scroll of night i loved
By Patrick James Galligan
Patrick's brother Sgt Edwin 'Ted' Richard Galligan (425149) of 623 squadron was killed over Berlin 1/9/1943 aged 27. He was married to Dorothy May Galligan.
Newspaper Article:
AIRMAN MISSING
On tuesday Inspector & Mrs JP Galligan received the sad news from the Minister for War that he regretted to inform them that their son, Sgt Air Gunner PJ Galligan was reported missing from air operations over enemy territory on 28/29th June.
Sgt Galligan who was only 21 years of age, enlisted in July 1941 and went to England via America. Whilst in America with other members of the RAAF he marched through New York and also made a broadcast from that city, his parents having the recording of same. He arrived in England about 20 March 1943 and was posted to Scotland and went missing in operations when Lancaster planes manned by Australians made such devastating raids on Hamburg, Cologne and St Nazaire.
He was born in Queensland, passed his scholarship in Ayr, his junior in Maryborough, where he was considered one of the best all round sportsmen of the school, and his long jump record still holds.
He passed his senior in New South Wales gaining honours in English. Health reasons forced him to come west and he was for 14 months on the staff of Mt Isa Mines from where he enlisted.
He wrote several poems, some of which have been published and also did oil paintings.
Pat, who is the third son of Inspector (police) and Mrs Galligan has two other brothers in the RAAF and his only sister Ellie has been enlisted in the Australian Womens Air Force. The very many friends of Inspector and Mrs Galligan (President of the Cloncurry Red Cross) well wish that the next news of their son will be of a more cheerful nature.
Patrick was born 16th December 1921 in Imbil, near Maryborough and was Roman Catholic. He was schooled at Convent School Gordonvale, Queensland in 1934. Convent School Ayr in 1934-36. The Christian Bros. Maryborough 1936-38. Sacred Heart College, Douglas Park, New South Wales 1938-40.
EXAMS:
Queensland University junior certificate 1937 passed in: English, Arithmetic, Geometry, Algebra, Geography, History and French. Failed Latin and Bookkeeping.
University Sydney leaving Certificate 1939 – passed English, History, Latin, Greek and French.
After leaving school he worked on a dairy farm for 6 months then became a clerk at Mt Isa Mines.
In 1945 he had a book of his poems published called "To Those Who Survive".
Patrick's grandparents the Galligans emigrated to Australia from County Cork, Ireland.
His brother Edwin 'Ted' was born in Childers in 1916, then brother William John 'Bill' was born in 1917. Another brother, called Jack died in infancy. His only sister Mary Ellen 'Ellie' was born in 1919 and brother Denis Vincent in 1924 who also served in RAAF in New Guinea.
Patrick wrote poetry from an early age, played piano, wrote music and was a talented artist.
The 'Depression' years forced his elder brothers to leave school early. Ted became a sheep shearer and Bill a cattle drover, timber yard worker and finally a policeman like their Dad.
Patrick enlisted 1 February 1942 the day after his brother Ted. He became an airman in 44th Squadron (Rhodesian) in the UK. His brother Denis V Galligan (425298) enlisted in the RAAF in Sept 1942 and Ellie enlisted in the AWAF in 1943.
When Patrick enlisted he was 20 years 1 month.
Height: 5 foot 7 and a half inches
Weight: 157 pounds
Chest: 35/36 inches
Complexion: Fair Eyes: Blue Hair: Light brown.
Scars/marks:
1 and a half inch curved linear scar dorsum left foot.
1 inch curved linear scar base of first right finger.
On 28/6/1943 Lancaster ED307 of 44 Squadron took off to attack Cologne. Flt Sgt Galligan and the crew had been with the squadron for 4 days and it was their very first air operation over Nazi Germany. Pat was the rear gunner, the tail-end Charlie. The Pilot was Sgt Charles Vernon Leslie Hulbert.
At 0144 on 29 June the plane was shot down by German night fighter Gunter Radusch and it smashed in a ball of flames into the countryside near Eindhoven. Parts of the aircraft were spread over a large area and even reached a road where bits of engine and a tail piece were discovered.
Dutch police tried to approach the burning aircraft but intense heat forced them back. Once the flames subsided they found 3 charred bodies in the cockpit and another 3 in the vicinity of the burnt out wreckage. Further away, amongst the pine trees the police made the grisly discovery of another body part torn open and bits lay among the trees. A piece of clothing was discovered to help identify the bodies, a shirt neck band and a pair of Size 8 flying boots.
Patrick's brother, Flt Sgt Ted Galligan (425149) was in Stirling bomber over Berlin on 31st Aug/1st Sept 1943 when the aircraft was hit by flak on the outward journey. There was very little of the crew to bury.
The Galligan family had sacrificed 2 sons for the liberation of Europe. The RAAF made the decision to restrict the operational service of their son Denis so that he too would not be lost. He served in New Guinea.
Denis became a Barrister after the war and later a QC and Solicitor General for Queensland.
Pat and Ted's brother William (Bill) was a policeman throughout the war and after it.
Their sister Ellie never married.
Their mother Emma died in 1957 and the names of her precious Bomber Command boys are engraved with hers on her headstone.
Photo of Patrick 'Pat' James Galligan copyright National Archives Australia
Newspaper report about the death of Pat's brother Ted.
It stated he had a fine singing voice and was a member of the concert party attached to his company until he arrived in the UK. Ted was in 623 Squadron.
Patrick's brother Edwin was killed on the raid to Berlin 31 Aug/1 Sept 1943.
Attached 2 pages of a report on the Air Operation.
Other document images:
Copyright Australia National Archives.
Source Dorothy Ramser
Related / Gerelateerde
Charles Vernon Leslie Hulbert - Sergeant
Dennis Mansell Lewis - Sergeant
Joshua Alan Sykes - Sergeant
Arthur Tooth - Sergeant
Thomas Rees Jones - Sergeant
George Albert Denney - Sergeant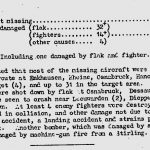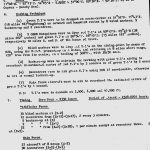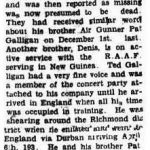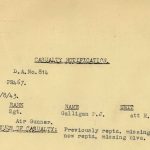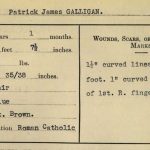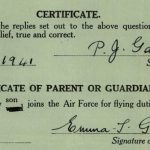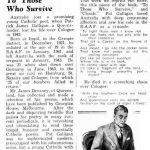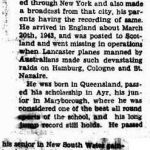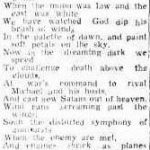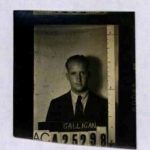 Additional information?
Graves Foundation Brabant is continuously looking for possible new additional information on the grave of the person.
If you are in possession of pictures, facts or stories about this particular grave or person and you want to share this with us, do not hesitate to click on the link below.
Click to share additional information.
Aanvullende informatie?
De Gravenstichting Brabant is continue op zoek naar mogelijk nieuwe aanvullende informatie over het graf of de persoon.
Bent u in het bezit van foto's, weetjes of verhalen over dit specifieke graf of de persoon en bent u bereid om dit met ons te delen, aarzel dan niet en klik op onderstaande link.
Klik hier om aanvullende informatie te delen.