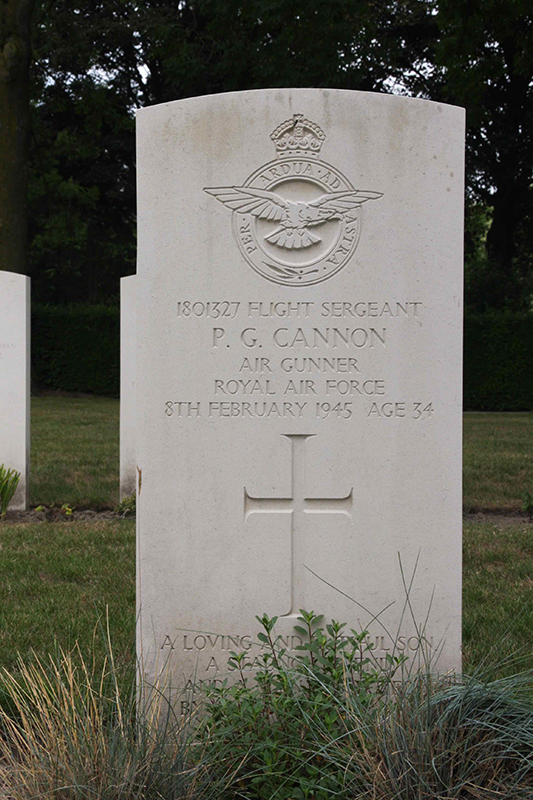 Graveyard / Begraafplaats:
Eindhoven (Woensel) General Cemetery
Location / Locatie:
RR grave 25
Militairy Service / Krijgsdienst:
Royal Air Force Volunteer Reserve
Rang:
Flight Sergeant
Regiment:
97 Sqdn.
Number / Nummer:
1801327
Age / Leeftijd:
34
Birthplace / Geboorteplaats:
Chartham,Kent, UK
Date of death / Overlijdensdatum:
08/02/1945
Son of Frederick Charles and Harriett Williamson Cannon from Canterbury; Kent.
Headstone:
A LOVING AND DUTIFUL SON, A STAUNCH FRIEND AND A MAN RESPECTED BY ALL WHO KNEW HIM
Percival was born in Chartham,Kent in 1910. He was 34 years old when he died.
His parents were Frederick Charles and Harriet Cannon ne Williamson of Canterbury in Kent.
In 1911 when the Census was taken, Frederick was an Asylum Attendant for Kent County Council. it would appear the whole family were living in the grounds of the institution.
Dad was a violin maker & repairer in 1939 and an Air Raid Warden. Percival was a switch board attendant.
Percival's brother Sgt Frederick Thomas Cannon (5172653) of the Royal Army Pay Corps (RAPC) was drowned when the Germans sank the ship the Lancastria during the evacuations from France after the Fall of France (Surrender of France) – 17/6/1940. He is buried in Pornic War Cemetery.
The Lancastria was sunk off the French port of St. Nazaire while taking part in Operation Ariel, the evacuation of British nationals and troops from France, two weeks after the Dunkirk evacuation.
By the mid-afternoon of 17 June she had embarked an unknown number (estimates range from 4,000 up to 9,000)[5] of civilian refugees (including embassy staff and employees of Fairey Aviation of Belgium), line-of-communication troops (including Pioneer and RASC soldiers) and RAF personnel. The ship's official capacity was 2,200 including the 375-man crew.
A fresh air raid began before 16:00. Lancastria was bombed at 15:48 by Junkers Ju 88 aircraft . Three direct hits caused the ship to list first to starboard then to port while a fourth bomb fell down the ship's smokestack detonating inside the engine room and releasing 1,200 tons of crude oil into the Loire estuary.
15 minutes after being hit, Lancastria began to capsize and some of those who were still on board managed to scramble over the ship's railing to sit on the Lancastria's underside. Lancastria sank within twenty minutes. When German pilots began strafing at survivors in the water, they ignited the more than 1,200 tons of fuel oil which had leaked into the sea which was quickly transformed into a flaming inferno.
Many drowned, were choked by the oil, or were shot by strafing German aircraft. Survivors were taken aboard other evacuation vessels, the trawler Cambridgeshire rescuing 900.
HUNDREDS of blood-spattered corpses floated in the oily sea and all around them there was devastation. They were surrounded by a swirling mass of exhausted men, women and children, their blackened faces peering out of the wreckage to which they were clinging. This consisted of splintered wooden lifeboats, discarded oars, jettisoned deck chairs, tables, and ammunition boxes, all mixed up with a sprinkling of cast off Army boots and khaki clothing. That was the apocalyptic vision that greeted rescue ships when they arrived in the estuary off St Nazaire, in western France during the late afternoon.
Those not wearing a lifejacket had to find some floating debris buoyant enough to hold them up. If they were wearing a lifejacket, they had to be strong enough to fight off the attacks of those driven to try to steal it. Even then they were not safe if they floated into oil lying on the sea surface. It had been lit by flares dropped by German planes. As one survivor put it, they were "fried like sausages in a frying pan".
There were 2,477 survivors
Many families of the dead knew only that they died with the British Expeditionary Force (BEF); the death toll accounted for roughly a third of the total losses of the BEF in France.
killed.
Estimates of the death toll vary from fewer than 3,000 to 5,800 people although it is also estimated that as many as 6,500 people perished, the Lancastria represents the largest loss of life in British maritime history.
Its hoped that Percival's brother Frederick died quickly.
Another of Percival's brothers – Staff Sergeant Charles Cannon served in the Middle East in the Royal Artillery.
Article published in the Whitstable Times 15 Sept 1945:
Canterbury mother liberated in Siam.
The great news has reached Mr & Mrs F C Cannon of 9 St. Peter's Grove, Canterbury that their daughter is safe in Allied hands. The daughter, Mrs H E Marshall, has been in a Japanese internment camp at Bangkok ever since the enemy invaded Siam; she has been with her husband and her baby (the last to be born to a prisoner in Japanese hands) and all are doing well. This relieving news was contained in the following letter dated 28 Aug which Mr & Mrs Cannon have just received from their daughter:
"No doubt you will be very pleased to hear from me after all this time. This letter is being taken by plane today to Rangoon and we hope it will be forwarded from there. (Prisoners of the Japanese were unable to write letters to family)
Elizabeth was born last january and is a healthy baby. I don't think that husbands and wives were allowed to live together in many camps. When we first came to camp, we were rather badly off and found it rather difficult but when we were able to get some money we were alright. We have been lucky in getting food because if the food was bad or unsuitable we could always cook something for ourselves. Neither of us have had much in the way of illness and have been able to get the various medicines which we needed although very expensive. We have had many air raids and have had many narrow escapes." (The Marshall family must have had money to be able to barter for food and medicine.)
Mrs Marshall was assistant Matron in the Bangkok Nursing Hospital. John Marshall worked for the Hong Kong and Shanghai Bank – HSBC.
Percival's father served in the RAMC and as a Corporal in the Royal Engineers in WW1 and lost an eye.
His daughters husbands, Major Imrie served during WW2 in the Gloucester Regt in Rangoon. His wife,Percival's sister worked in government laboratories in India and her sister Betsy Germond was a nurse in Bechuanaland. Major Germond received the MBE for his service in Italy.
Percival's brother, Frederick, who died on the Lancastria married Nellie Isabel H Marshall (born 1909) in Canterbury 1931. She died never marrying again in 1993 in Canterbury.
Images Baptism entry, 1911 Census and 1939 Register
Copyright National Archives London.
Source Dorothy Ramser
Related / Gerelateerde
Charles William Mcgregor - Lieutenant
Jonathan Shield - Sergeant
Arthur Joseph Norton - Flying Officer
Gerard Stansfield Johnson - Flight Lieutenant
Raey Hilton Cheatle - Flight Sergeant
David Strang Lennie - Sergeant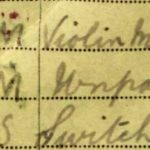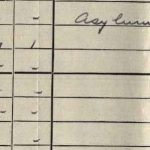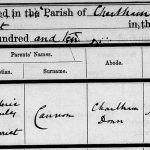 Additional information?
Graves Foundation Brabant is continuously looking for possible new additional information on the grave of the person.
If you are in possession of pictures, facts or stories about this particular grave or person and you want to share this with us, do not hesitate to click on the link below.
Click to share additional information.
Aanvullende informatie?
De Gravenstichting Brabant is continue op zoek naar mogelijk nieuwe aanvullende informatie over het graf of de persoon.
Bent u in het bezit van foto's, weetjes of verhalen over dit specifieke graf of de persoon en bent u bereid om dit met ons te delen, aarzel dan niet en klik op onderstaande link.
Klik hier om aanvullende informatie te delen.