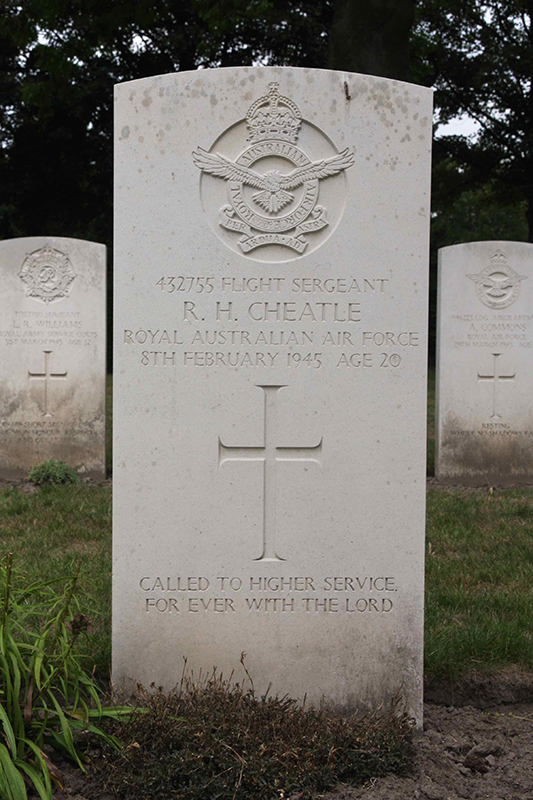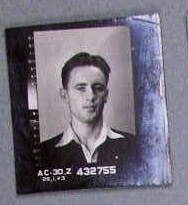 Graveyard / Begraafplaats:
Location / Locatie:
RR grave 30
Militairy Service / Krijgsdienst:
Royal Australian Air Force
Rang:
Flight Sergeant
Number / Nummer:
432755
Birthdate / Geboortedatum:
11/07/1924
Birthplace / Geboorteplaats:
Bankstown, NSW, Australia
Date of death / Overlijdensdatum:
08/02/1945
Son of Noel Rodney and Mabel Ruth Cheatle from Bankstown; New South Wales; Australia.
The photograph of the airman is Flt Sgt Allen Leonard Cheatle RAAF killed in an aircraft accident 25/7/1944 and buried in Harrogate, Yorkshire,UK He is Raey's brother. A letter was forwarded to Mrs Cheatle in Australia from one of Reay's crew members Mother, Mrs Shield
F/O R.C. Smalley is burried in Groesbeek.
The family continued putting In Memoriam messages twice a year. Father Noel R Cheatle died in 1976 having lived with the grief of losing his twin sons for over two decades.
Raey and Allen (eldest twin) were born 11th July 1924 at Daphne Ave., Bankstown, NSW. Father – Noel Rodney Cheatle – profession Carpenter was 25 years old. He was born in Enfield, Sydney. Married 28 /10/1922. Mother – Mabel Ruth Fouleston was 23 years old when they were born. She was born at Broken Hill, NSW. Dr. S.J.Woodnough and Nurse Wadson attended the birth.
Raey attended secondary school at North Newtown Intermediate High School 1936-38.
He set exams in November 1938 and passed in the following subjects: English/ History/Geography/Maths I/ Maths II/ Science/ Tech.Drawing/ woodwork.
Failed : French
1st Class pass: Elementary Science.
Occupation after school: General Clerk at Glebe Tool equipment company.
Once enlisted he embarked at Sydney 4/11/1943 and arrived in the UK 10/12/1943.
On the 6th March 1944 he was sent to 9th Operations Training Unit at Crosby On Eden, UK. Then on 16th May 29th Operations Training Unit and on the 17th August 51 base at Debden, where he joined 106 Squadron 27/10/1944 and
then 97 (straits settlements) squadron11/1/1945 at Coningsby. His character throughout was rated as VG.
His promotions:
Aircraftsman 2 – 30/1/1943
Leading aircraftsman 27/3/1943
Sergeant – 14/10/1943
Flight sergeant – 14/4/1944
Courses:
No37 gunnery course Pass 26/3/1943
No37 gunnery course Pass 14/10/1943
Aircrew NCO course 'B' 12/2/1944
Whitley Bay (NE of England) senior gunnery school 64%
Raey enlisted 4/1/1943 in Sydney. He was 18yr and 6 months. He was 5 foot 6 inches tall and weighed 114 pounds. His chest was 30 inches and 33 inches exhaled. Vision for both eyes was 6/6. Complexion: Fair/ Eyes:Hazel/Hair:Brown/Religion:Church of Christ.
Distinctive Marks:
Scars: nape of neck , back of elbow, left side of neck, right knee. Moles back of right arm. No vaccination.
Raey Hilton Cheatle made his Will on 3/2/1943 whilst at No2 Unit RAAF at Bradfield Park NSW Australia. He made his mother executor of his will and made her the sole beneficiary.
Probate was granted 14/8/1945 and he left his Mother the sum of £417-7s-1d.
3 document images concerning Raey's twin brother – Allen Leonard Cheatle -death in Bomber Command when he crashed on Hatfield Moor, Yorkshire at 01:47am 25 July 1944.
He died 3:35pm on 26 July in Doncaster Royal Infirmary. 3 Images COPYRIGHT National Archives of Australia.
Allen was the wireless operator. In civilian life he had worked as a Clerk in the Electricity and Costing Dept. of Bankstown Council. He enlisted 15/12/1942. Arrived in the UK 19/10/1943. On 25/6/1944 he was posted to 11th squadron base. Promoted to Flight Sgt 19/2/1944
The conclusion of the investigation into the crash of his Halifax Bomber EB190 on Hatfield Moors at 01:47am 25/7/1944.
a) The aircraft was engaged in practice night circuits and landings. It took off, climbed to about 300ft, then did a diving turn to starboard and crashed about 2 miles from the airfield.
b) The starboard inner engine failed due to the inlet valve of No. A. 2. Cylinder breaking. The starboard outer engine giving no power due to apparent mishandling. The pilot was unable to control the aircraft with only two port engines working during the initial stages of the climb from take off.
Crew killed:
Sgt Cheatle wireless operator 20y
Pilot officer Laird 23y
Flt Engineer Sgt McCleod 24y
Flt Engineer Sgt Salter 21y
Navigator Pilot Officer Stalvies 21y
Bomb Aimer Sgt Wilkins 20y
Survived:
Sgt Woodward and Sgt Wishart both Gunner.
Allen was badly burnt on his face,hands and legs and had a severe wound around his eye and above his knee and was suffering from extreme shock.
His parents in Australia received the telegram telling them he was dead at 10:25am 29/7/1944. He was buried in Yorkshire with full military honours, with his twin Raey in attendance 1 minute after at 10:30am that same day.
Raey asked for Allen's swiss chrome wrist watch, his signet ring with his initials ALG engraved on it, his fountain pen and and propelling pencil.
His parents received among the other items of his effects his damaged identity discs and a battledress jacket with his air gunner insignia and sergeant chevrons. His Log book was also returned, as well as personal diary.
Images copyright National Archives Australia
Source Dorothy Ramser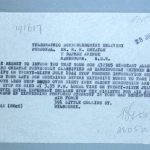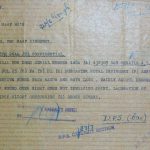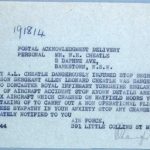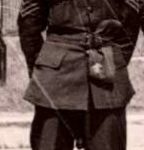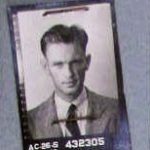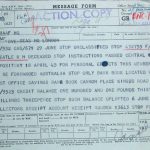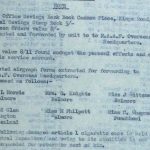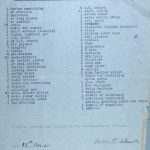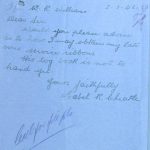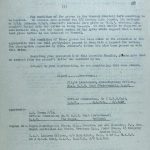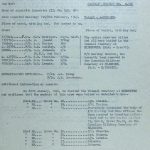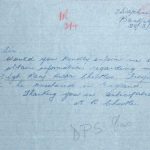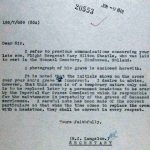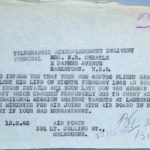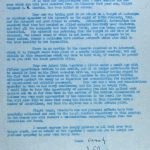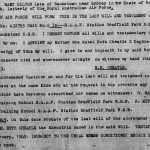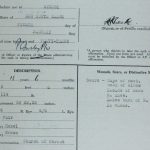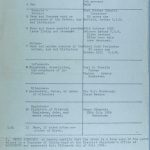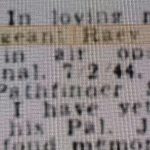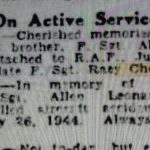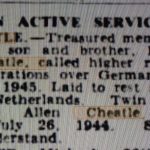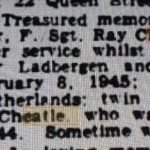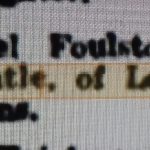 Additional information?
Graves Foundation Brabant is continuously looking for possible new additional information on the grave of the person.
If you are in possession of pictures, facts or stories about this particular grave or person and you want to share this with us, do not hesitate to click on the link below.
Click to share additional information.
Aanvullende informatie?
De Gravenstichting Brabant is continue op zoek naar mogelijk nieuwe aanvullende informatie over het graf of de persoon.
Bent u in het bezit van foto's, weetjes of verhalen over dit specifieke graf of de persoon en bent u bereid om dit met ons te delen, aarzel dan niet en klik op onderstaande link.
Klik hier om aanvullende informatie te delen.