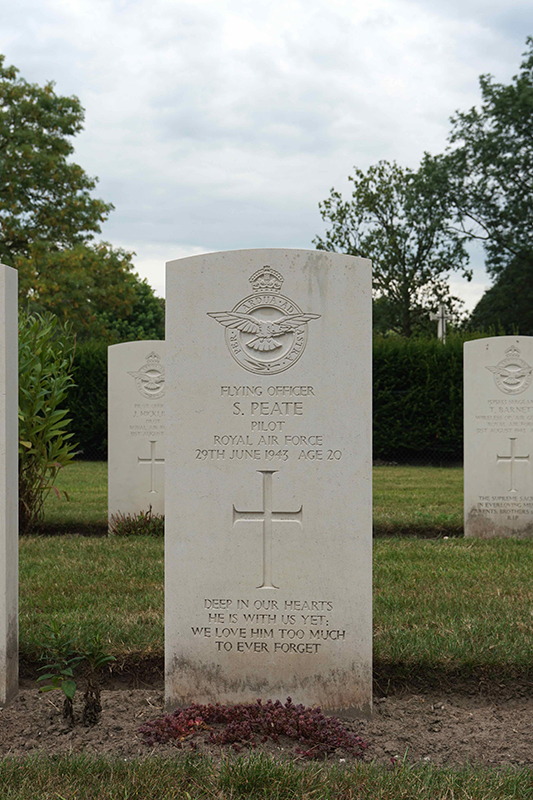 Graveyard / Begraafplaats:
Eindhoven (Woensel) General Cemetery
Location / Locatie:
EE grave 70
Militairy Service / Krijgsdienst:
Royal Air Force Volunteer Reserve
Rang:
Flying Officer
Regiment:
10 Sqdn.
Number / Nummer:
117424
Age / Leeftijd:
20
Date of death / Overlijdensdatum:
29/06/1943
Place of death / Overlijdensplaats:
Wolfsput, Aarle-Rixtel
Son of Edgar Doris Peate from Sheffield; and Husband of Constance Ivy Peate from Pits Moor; Sheffield.
On June 29, 1943 came in the middle of the night, at 02:33, a Halifax II bomber from the 10th Squadron of the RAF down at the Wolfsput. The aircraft was flown by P / O S. Peate.
This bomber was part from an operation with 608 aircraft had targeted Cologne. , Ultimately reaching 540 aircraft their target. In this raid were lost 25 aircraft, including at Aalst Waalre, Boekel, Netersel, Nuenen and Aarle-Rixtel came down.
The last crash was caused by a German night fighter, flown by Major Radusch I / NJG1. Twenty minutes later, the same driver would be another British bomber, the Avro Lancaster, knockdown which crashed at Nuenen.
It killed seven Canadian crew members.
Sgt. Wop / AG. A. Bailey.
Elt.Sgt. AG. G. J. Sweeney.
Flt.Sgt. AG. H Erickson.
Flt.Sgt. Nav. P. L. Rakoczy.
F / O. Air Bomber H. H. Pearson.
Sgt. Flt. Scary. H. Pape.
F / O. Pilot S. Peate.
The device that was supposedly drunk, crashed east of the canal South Willemsvaart below the hamlet "Wolfsputten", also indicated by the "Smouse Hump". The bodies of the pilots were transferred to military vehicles.
Related / Gerelateerde
Alfred Bailey - Sergeant
Joseph Gerald Sweeney - Flight Sergeant
Harry Erickson - Flight Sergeant
Paul Leopold Rakoczy - Flight Sergeant
Horace Horatio Pearson - Flying Officer
Horace Pape - Sergeant
Additional information?
Graves Foundation Brabant is continuously looking for possible new additional information on the grave of the person.
If you are in possession of pictures, facts or stories about this particular grave or person and you want to share this with us, do not hesitate to click on the link below.
Click to share additional information.
Aanvullende informatie?
De Gravenstichting Brabant is continue op zoek naar mogelijk nieuwe aanvullende informatie over het graf of de persoon.
Bent u in het bezit van foto's, weetjes of verhalen over dit specifieke graf of de persoon en bent u bereid om dit met ons te delen, aarzel dan niet en klik op onderstaande link.
Klik hier om aanvullende informatie te delen.