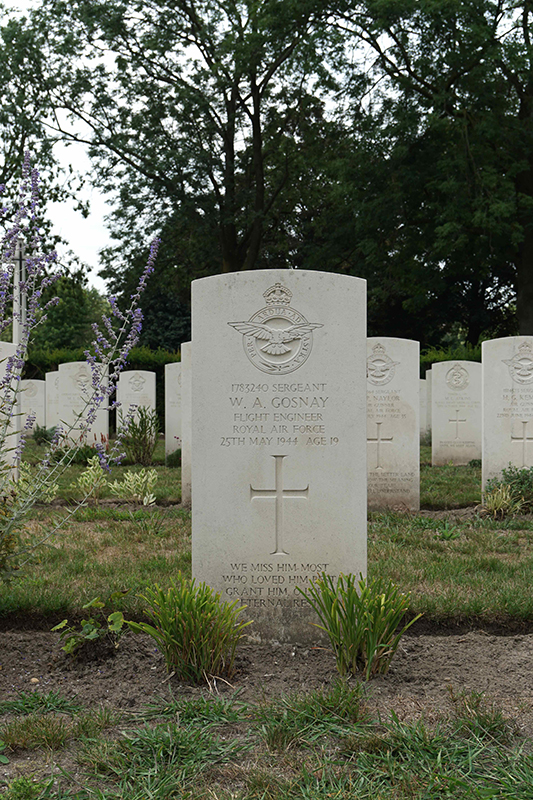 Graveyard / Begraafplaats:
Eindhoven (Woensel) General Cemetery
Location / Locatie:
KK grave 59
Militairy Service / Krijgsdienst:
Royal Air Force Volunteer Reserve
Rang:
Sergeant
Regiment:
51 Sqdn.
Number / Nummer:
1783240
Age / Leeftijd:
19
Date of death / Overlijdensdatum:
25/05/1944
Place of death / Overlijdensplaats:
Eindhoven
Son of Ralph and Edith Jane Gosnay from Thornaby-on-Tees; Yorkshire.
At 22.15 local time lane Snaith airfield in Yorkshire, England, the Halifax III bomber LK-855 MH Z-51 squadron, loaded with more than five tons of bombs. Along with 441 other bombers went that night to Aachen with the aim to destroy the important railway junction there.
Without too much damage reached the fleet Aachen and threw the bombs. On the way, however, they encountered fierce shelling by anti-aircraft (Flak) and attacking German night fighters. That night were lost not less than 25 aircraft.
This included MH-Z, which in the wing was hit by a 88mm grenade flak battery of the Iron Man in Tongelre. One of the engines exploded and the whole thing caught fire. While the pilot, P / O Carl Lawson, the unit tried to keep the unit in check, he gave his crew to jump command.
Five of them actually managed to leave the plane. Four survived the jump, but the fifth and only Englishman among them (the rest was Canadian), flight engineer Sgt. Wilfred Gosnay, death found.
While the parachutes still hung in the air, the Halifax crashed around 01:10 when Anthony Fokkerweg down, carrying still the pilot and the tail gunner, Sgt. Stan Beech. Their bodies were never found, so they since then as "missing" to book.
Navigator Sgt. John Noel and radio operator Sgt. Ken Minifie were not far apart up on a plowed field. They reached during the following evening Eindhoven, where they tried in vain to get in touch with the underground.
During their attempts, they were arrested by the Dutch police and transferred to the Feldgendarmerie she asked transported to Stalag Luft 7, a prisoner of war camp near Breslau. Two months later there arrived also the gunner of the MH-Z, Sgt. Bruce Fraser. For them, the war ended in 1945, when they were liberated by Russian troops in Potsdam.
Very different was it for the bombardier Sgt. Joseph Hooks. He was indeed contacted with the underground and ended up using via a hiding place in Zeelst. There he made on September 19 with the release of Veldhoven. On October 21 1944 he was back in England. In August 1945, he wrote a letter about the crash of MH-Z to the parents of pilot Carroll Lawson.
In July 1993 the Eindhoven Dagblad reported that to implement the Explosive Ordnance Disposal was planning salvage operations for the remains of a British bomber. The recovery took place between 17-20 August, the remains were located about four or five meters underground.
Except for a pilot's watch and a propeller driver did not move much, probably because of excessive heat during crash. "It must have been terribly burned," Van den Berg captain (the officer). "That in this case is very unfortunate because we were hoping to see remains of two missing soldiers in the wreck. So we can not give clarity to the next of kin. "
Halifax in which they flew was hit by an anti-aircraft gun and the crew jumped out of it. The pilot, a Canadian man named Carl Lawson, crashed with the plane. Wilfred was the only one who did not survive the jump. Two other military have gone missing and have never been found again. Of the last three who were left, two were arrested by the police and taken to a prison camp near Breslau. The latter, a man named Joseph Hooks, has been able to make connections with the resistance and went into hiding in Eindhoven. He went back to England after the liberation from Veldhoven where he told the story of the crew. The two captured military were freed from Potsdam by the Russians only in 1945.
The students, Rowan Peijs & Guus Liebrand, of the Stedelijk College in Eindhoven conducted research and found the above findings. Their full report (in Dutch) with a lot of additional information can be viewed via this link.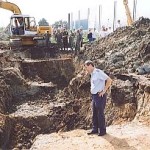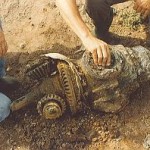 Additional information?
Graves Foundation Brabant is continuously looking for possible new additional information on the grave of the person.
If you are in possession of pictures, facts or stories about this particular grave or person and you want to share this with us, do not hesitate to click on the link below.
Click to share additional information.
Aanvullende informatie?
De Gravenstichting Brabant is continue op zoek naar mogelijk nieuwe aanvullende informatie over het graf of de persoon.
Bent u in het bezit van foto's, weetjes of verhalen over dit specifieke graf of de persoon en bent u bereid om dit met ons te delen, aarzel dan niet en klik op onderstaande link.
Klik hier om aanvullende informatie te delen.