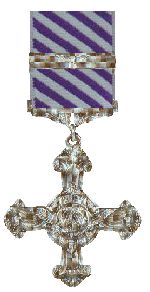 Description :
The Distinguished Flying Cross is high British decoration awarded for "an act or acts of valour, courage or devotion to duty whilst flying in active operations against the enemy". Until 1993 this medal was only awarded to officers. For the lower ranks there was the "Distinguished Flying Medal". There is also an Air Force Cross for courage not shown while in the air.
The Navy's Distinguished Service Cross and the  Army's Military Cross are considered equal in rank to the Distinguished Flying Cross. The Distinguished Service Order and the Conspicuous Gallantry Cross, introduced in 1993, are of a higher classification.
The cross was introduced on 3 June 1918, almost at the exact time that the RAF was formed, by King George V of the United Kingdom. Except to British pilots and men of other divisions than the RAF on planes, the cross was also awarded to pilots from other countries and from Commonwealth countries.
The Victoria Cross and the DSO with buckle of Guy Gibson VC, DSO, DFC are made in the style of the British court. He is wearing a buckle on the ribbon of his Distinguished Flying Cross.
1100 crosses were awarded in World War I. 70 men received the medal twice and 7 men received the  Distinguished Flying Cross three times. They wore one or two buckles on the ribbons  and one or two silver rosettes on the baton.
In World War II 20,354 crosses, 70 first and 42 second buckles were awarded. 964 pilots of allied airforce units, including Jan Bosch, Erik Hazelhoff Roelfzema and Robbert van Zinnicq Bergmann received an "honorary" Distinguished Flying Cross.
Pilots also received DFC's in the two Gulf wars and in the Falkland war.
The wearers can place the letters "DFC" behind their name.
The medal
The cross is an non-enamelled massive silver "fleury cross" and just over three centimetres wide. The buckles for fastening the cross are silver, the top buckle is decorated with a rose.
In the middle of the cross, of which the arms are propeller blades, is a laurel wreath with the RAF insignia in the middle. Over that the British Imperial crown is shown in relief.
On the other side of the medal is the monogram of the reigning king or queen. The year in which the cross is awarded is engraved on the lower arm.
In 1918 the ribbon was white with broad horizontal purple bands. The ribbon changed in 1919: it was now white with diagonal purple bands.
Trivia
For merits not in combat flight there is an Air Force Cross. In 1941 Prince Bernhard of The Netherlands used the Distinguished Flying Cross as a model for a Dutch Flying Cross in silver and gold. The silver cross would resemble the Air Force Cross. The thrifty Dutch government only took over half of his suggestion and introduced one silver Flying Cross for both merits
The United States and India also have a Distinguished Flying Cross.