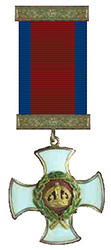 Description:
The reigning monarch is grand master of the order and the members are called  "companions", a high rank in British awards. They use the letters DSO behind their name. Until recently countries connected to the United Kingdom in a personal union, such as Australia and New Zealand, also awarded this honour. The DSO was usually awarded to majors and higher ranking officers, but there are cases in which the DSO, as "just shy of a Victoria Cross" was granted to especially courageous lower ranking officers.
Queen Victoria introduced the order on 6 September 1886 as a reward for "meritorious or distinguished" conduct during a war and specifically in combat with the enemy. During the revolt in British India it had become apparent that there was a need for a military decoration, apart from the Victoria Cross and the Order of the Bath. In World War I 8981 of these orders were granted. In some cases the order was also granted to staff officers and after this had caused discontent in the front lines, commanders were instructed in 1917 to only recommend officers who had been under fire. Until 1943 the recommended officers also had to mentioned in a despatch.
In World War II the honour was awarded 870 times to Air Force officers. 62 of these received the order twice and therefore wore a gold buckle with a crown on the ribbon of the medal. 8 pilots received this order three times and the two pilots that received the DSO for a third time wore three buckles.
Since 1993 the order is only granted for distinguished service with exceptional leadership and command to all officer ranks. Since a new honour, the Conspicuous Gallantry Cross, was introduced as general honour for bravery, the DSO had again only been awarded to higher ranking officers.